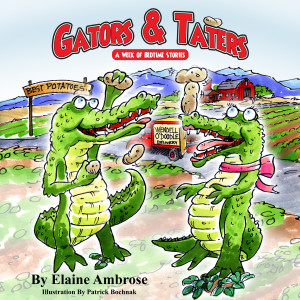 Growing up on an Idaho potato farm prompted me to write the lead story in my children's book, Gators & Taters – A Week of Bedtime Stories. A visit to Ireland sparked my interest in folklore and inspired this collection that includes stories I once told to my children and now read to my grandchildren. The book is available as an audiobook for $6.95. I read the narration and the recording lasts an hour.
The book was designed to be read aloud to children. Parents, caregivers, and teachers can celebrate the tradition of storytelling and inspire children to wonder about characters, places, and adventures. These seven delightful stories bubble with lyrical language, captivating scenes, and gentle messages.
Research proves that reading to a child is one simple but powerful parenting technique that helps children get a head start in literacy skills and go to school better prepared. Reading to children also strengthens the bond with the caregiver and encourages imagination. No batteries required.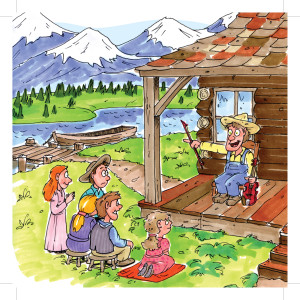 Awards and Honors for Gators & Taters
* One of 50 Children's Books Selected for Bowker's National Recommended Reading List
* Selected for Idaho Public Television "First Books" Program with Statewide distribution to underprivileged children
* Selected for State of Idaho "Read Out Loud Crowd" Program
* Selected for the Summer Reading List for the Log Cabin Literary Center in Boise, Idaho
* Selected for the Barnes & Noble Summer Reading Program in Boise, Idaho
"These warm, funny stories have creative imagery to be exciting and narrative rhythm to be soothing. In a busy world where children need reassurance, these imaginative stories provide respite and hope."
Janice Fletcher, Ed.D, Director, Child Development Laboratory, University of Idaho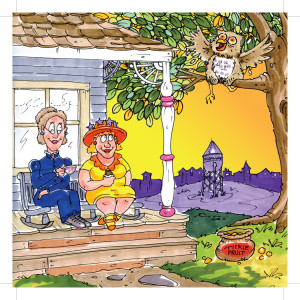 The sequel to Gators & Taters was titled The Magic Potato – La Papa Mágica, a bilingual storybook that was adopted for the Idaho statewide school curriculum.
Author's Note: I wrote Gators & Taters when I had a different last name, and I had to keep that name after a divorce because the book is copyrighted and cataloged in the Library of Congress under the former name. A new print edition, using my current and forever name and including 35 new original illustrations will be released in the spring of 2017.