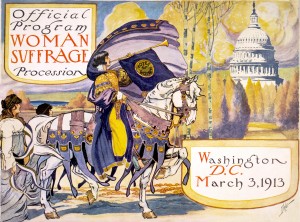 I had decided not to vote in the presidential election. Even though I previously had performed my loyal and patriotic duty since 1972, this year was different. The charade and parade of fools running for president made me question the need to vote. How do I select the least horrible candidate?
I believed the voting process was important to our Republic, but it was naive to think every vote counted. One candidate already had attracted large numbers of Super Delegates, those voters who were free to endorse anyone they want for nomination regardless of the voting result. Also, special-interest groups carried enough weight to tip the scales for or against a candidate. And every election cycle brought allegations of fraud from both sides as ballots were cast multiple times, often by dead or fictitious people. What's the use?
A recent event caused me to reconsider my boycott of the elections. One evening I was working at my desk and I heard a noise in the kitchen so went to investigate.  A woman sat at the table and stared at me. Too frightened to run, I stared back and mumbled, "Who are you?"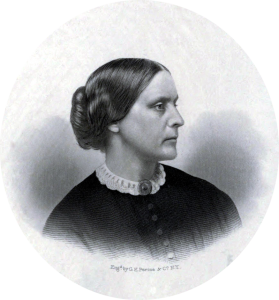 "I'm Susan Anthony," she said. "And I'm very disappointed in you."
"Would that be Susan with a 'B' Anthony?" I asked.
"Yes. You should have known by the vintage dress and white collar. Do you like my hair up in a bun like this? I could never wear it down like you do."
"It looks lovely. But how did you get in my kitchen. Aren't you dead?"
"Yes, I died in 1906. That was 14 years before women got the right to vote in this country."
I felt chagrined. I knew she was a pioneer suffragette who championed women's rights in a time when women were uneducated, couldn't own property, and had few individual rights. She proceeded to tell me about her arrest for voting in the 1872 presidential election. She wasn't allowed to speak during her trial, and the jury of all men convicted her. The judge fined her $100, which she never paid.
"I was arrested for voting," she said. "What makes you so special that you don't vote?"
I stammered an excuse and finally admitted I had no excuse.
"Would you like a glass of wine?" I asked, hoping to break the tension.
"Don't you remember I was involved in the temperance movement? I was raised a strict Quaker, and I fought against the sale of alcohol. In those days, the husband controlled everything, the finances, the house, the children, and the wife. If he got drunk every night, the wife had no power to leave. She couldn't get a divorce, and if they separated, the man usually got custody of the children and she was left destitute."
"I can't imagine how oppressive that must have been," I said. "What prompted your vocal advocacy?"
"I was a teacher and I tried to speak at the New York State Teachers' Association meeting in 1853, but the men said it wasn't proper for a woman to speak in public. They debated 30 minutes and finally relinquished. Can you imagine?"
I thought about how relatively free women are today in comparison, even though there are cloisters of fanatical societies that continue to belittle females. The fact that I could own property, have an education, travel alone, vote, run for office, and make independent decisions was due to the advocacy of brave women from the past.
Another vision appeared and a woman sat down at the table. At this point, I didn't care if Susan B. Anthony didn't drink alcohol, I poured a glass of wine. After all, it was my kitchen and I was talking with two ghosts. I welcomed the woman and asked for her story.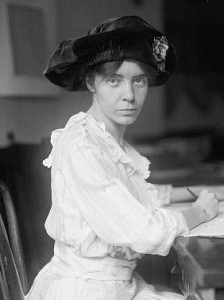 "I'm Alice Paul," she said. "In 1917, a group of women in Virginia was arrested, beaten, and thrown in jail for protesting for the right to vote. I was in that group and spent five weeks in prison. I went on a hunger strike so they locked me in solitary confinement in a psychiatric ward and force-fed me raw eggs through a tube down my throat. But I never gave up."
"I don't know how to repay both of you for your sacrifices," I said. "Life must have been so difficult."
"We were only two of thousands who marched in the streets, attended Congressional meetings, wrote amendments, fought with our patriarchal families, and encouraged other women. We were ridiculed, tormented, beaten, and chained to iron bars in jail cells. But we never gave up," said Paul. "Your rights today are the result of our fearless actions."
I raised my glass and toasted them. They raised empty hands to wave goodbye, smiled faintly, and began to fade away.
"I promise to vote!" I called after them.
"We know," they said in unison. "Or, we'll be back."
I decided that I would vote. Which candidate to choose remained unclear, but I would vote. Susan and Alice sacrificed too much for me to stay home in the kitchen.