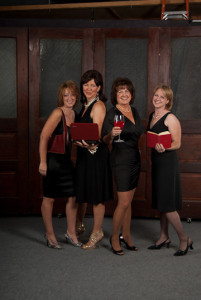 Eight years ago, I organized a writing group in Eagle, Idaho called "Writers Who Wine." We met to read our work, critique prose and poetry from others, and to focus on writing prompts. And, we enjoyed wine.
After a few festive meetings, four of us decided to create a book of poetry called Daily Erotica – 366 Poems of Passion. We chose the  provocative title because we  knew Daily  Poems was too boring. We brought our poems to my cabin for a weekend in the fall of 2008 and rated the submissions from 1 (Oh, yes!), to 2 (Warm, but not sizzling), to 3 (Get out of here. You can't write.)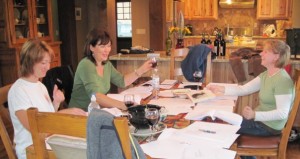 We published the book through Mill Park Publishing and released it on February 14, 2010. The book is dedicated to all the women who are searching for their lost libidos.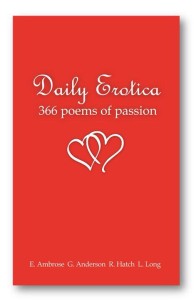 The 366 poems begin on February 14 and span every day for a year. The content varies between romantic, silly, and a bit naughty. The authors are convinced their writing is better than the insipid lines in the bestselling book Fifty Shades of Grey. Here are two examples:
September 17
All that I am
unafraid
unashamed
uninhibited
undressed,
I am yours.
September 2
The first time she saw his smile
she knew he was worth the wait.
Finally, after all these years,
she let down her guard,
opened the door to her heart,
and invited him inside.
He took off his boots
and decided to stay.
Response to the book was fun and we enjoyed presenting selected poems at various events and for community organizations. The four of us ranged in age from 37 to 57, all of us had children, and three of us were divorced. One in the group, Gretchen Anderson, had been happily married for more than 17 years. The other three, Liza Long, Rachel Hatch, and I found true and lasting love after the book was published.
Copies of the book are available on Amazon.com for $12,95 or from the authors or Mill Park Publishing in Eagle for only $5.00.  If you're interested in a unique Valentine's Day gift that will last all year, email me at elaine@millparkpublishing.com. I'll deliver Monday and Tuesday to downtown Boise, Eagle, and Meridian.
Everyone sing along now, "What the world needs now is love, sweet love. It's the only thing that there's just too little of." (I don't like ending a sentence with a preposition, but that worked for Jackie DeShannon and Dionne Warwick when they sang the famous song.)
This Valentine's Day, be a lover, not a fighter. Read and share Daily Erotica.