Author Elaine Ambrose will be interviewed by Celeste Stacey, host of the Midlife Recharge Summit, for the national summit presented on Friday, August 4, 2017. Elaine will talk about how women over age 50 can use their talents to work with younger women and be mentors to them.
For listeners of the program, Ambrose will offer a free eBook (a value of $9.95) or a free audiobook (a value of $13.97) of her award-winning book Midlife Happy Hour. Email her at: elaine@elaineambrose.com and write "Free Gift" in the subject line. Be sure to indicate eBook or Audiobook. This offer expires on August 31, 2017.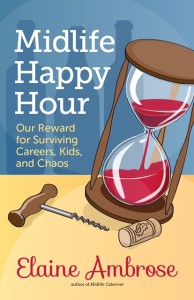 Midlife Happy Hour – Our Reward for Surviving Careers, Kids, and Chaos describes the author's journey to reinvent herself after age 50. The book is a Finalist for Foreword INDIES Book of the Year for Humor, a #1 Bestseller on Kindle, and it received a 5-Star Review from Foreword Clarion Reviews. It's the winner of 2017 Independent Press Award for Midlife and was recently named a "Distinguished Favorite" for Humor from the 2017 Independent Press Awards.
In the book, Elaine Ambrose boldly writes her latest kiss-my-attitude book as a sassy sequel to Midlife Cabernet. Ambrose shares her festive life experiences and career-crushing anecdotes as she explains how to remain relevant after age 50, why grown children make great travel companions, and how to balance midlife without falling over. Ambrose notes that her feminine mystique sprung a leak after years of competing as a funny female in a serious male job market. Now the hard work is done, and she invites midlife women to join her for Happy Hour.