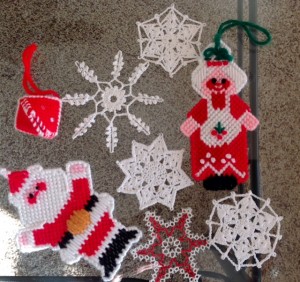 Decking the hall and trimming the tree are annual rituals I prefer to do alone. For almost four decades, I've gently unpacked the ornaments and centerpieces while playing my favorite music. Bing makes me happy with "White Christmas," and the effervescent "Sleigh Ride" guarantees a jolly mood. But by the time Frank sings "Have Yourself a Merry Little Christmas" I usually grab some of the wrapping tissue and wipe a few tears. I'm just a sentimental sap because "next year all our troubles will be out of sight."
After all the festivities and hullabaloo are over, packing the decorations is a bittersweet experience best fortified with a glass of Cabernet, a plate of leftover fudge, and one last time with nostalgic Christmas music. I'm okay until Sandi Patti sings "Bethlehem Morning" and then I usually sit helpless on the floor surrounded by stray ornaments, a lost lamb from the Nativity set, and a cracked nutcracker while holding a scratched ball that says "Baby's First Christmas 1980."
The melancholy dilemma is brief, and I gulp the wine, gobble the fudge, and change the music to "Walking on Sunshine" by Katrina and the Waves followed by "Beautiful Day" by U2. I'm hollering "It's a beautiful day, don't let it get away" as I throw the last string of lights into the box and tape it for another 11 months. Depression averted for another year.
This year I reminisced about my grandmother's handmade ornaments given to me more than 30 years ago. Both my grandmothers were sturdy, stoic farm women. They used their hands to mold dough, make soap, sew and mend clothes, milk cows, and create Christmas ornaments. My paternal grandmother's eyesight was failing in her last years, but she managed to thread yard around plastic patterns of Santa and Mrs. Claus. My maternal grandmother's fingers were bent from years of hard work, but she tatted and crocheted intricate snowflakes and starched them for ornaments, each one different, each one made with love.
My grandmothers died decades ago, and I've only recently truly appreciated their gifts to me. They were widows, living on Social Security payments, and their quiet goodness was often overlooked. They didn't know what to do with their noisy, spirited granddaughter, but they continued to give simple gifts from their hearts. I'm humbled when I reflect on their gentle gestures. This year, I wrapped their ornaments in the good tissue.
Now I'm a grandmother, and I hope I can be a good example to the little giggling girls that have come into my life. I want them to have the essential qualities of generosity, honesty, productivity, and joy. And if the music of their life is making them sad, I hope they get up and change it. Their great-great-grandmothers would approve.