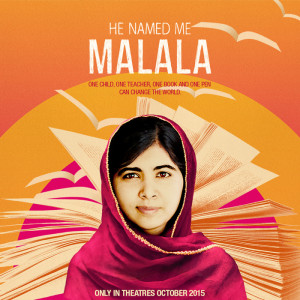 Last July in New York City, I was honored to be in the audience for the private showing of the film "He Named Me Malala." I am so passionate about this film and about education for girls that I am co-sponsoring a benefit show with the Wassmuth Center for Human Rights. The event will be Sunday, October 11 at The Flicks starting at 7:00 pm. A short discussion will follow the film.
Wassmuth Center for Human Rights and Mill Park Publishing to Sponsor Film
Eagle, ID – Can one child change the world? Yes. Malala Yousafzai was a 15-year-old school girl in Pakistan when terrorists attempted to kill her for advocating education. She survived a gunshot to the head and now leads a global campaign for girls' education as co-founder of the Malala Fund. For her brave advocacy, she received the Nobel Peace Prize at age 17. Her compelling story is now a documentary that can be viewed across the country.
The film "He Named Me Malala" was produced by acclaimed documentary filmmaker Davis Guggenheim. The film premiers in Boise on October 9 at The Flicks, 646 Fulton Street. For ticket information and other show times, see the website at Malala. Click here to see the trailer:  Malala trailer
A benefit performance is scheduled at The Flicks for Sunday, October 11 beginning at 7:00 pm. A discussion will follow and includes students, educators, and local leaders concerned about human rights. The event is sponsored by the Wassmuth Center for Human Rights and Mill Park Publishing. Local author, syndicated blogger, and publisher Elaine Ambrose owns Mill Park Publishing. She was invited to view the film "He Named Me Malala" at a private showing last July at the BlogHer Conference in New York City.
"This film captures the strength and resilience of one girl who is destined to improve the world," says Ambrose. "In other parts of the world, girls are being murdered, tortured, and poisoned just for going to school. It's time we placed a priority on education for girls."
For information about discounted tickets to the October 11 event, see this website: Wassmuth Center for Human Rights.
The mission of the Wassmuth Center for Human Rights is to "promote respect for human dignity and diversity through education and to foster individual responsibility to work for justice and peace." The Center achieves this mission by providing educational programs for teachers and students, engaging in community leadership, partnering with business and industry, and advocating for human rights.
Mill Park Publishing of Eagle has enabled more than 50 women to become published authors. The books have won 14 awards in the past two years. Two more books are scheduled for release in 2016.