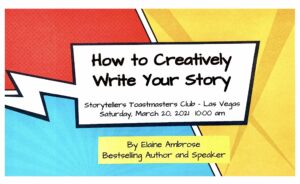 Join me Saturday, March 20! I'll be live and lovable on Zoom at 11:40 am Mountain Standard Time for a 30-minute presentation. (That's 1:40 pm on the East Coast and 10:40 am in Nevada.)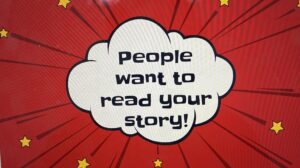 Storytellers Toastmasters Club in Las Vegas, Nevada invites you to join us this Saturday, March 20, at 10:00 a.m. Pacific time for a very special workshop:
HOW TO CREATIVELY WRITE YOUR STORY
Hosted by Elaine Ambrose, author of 12 books, 8 eBooks, and 4 audiobooks.
 She will explain:
1) How your journey is your story because you are a walking storybook.
2) How to organize, outline, and write your stories.
3) How to package your message in blogs, magazine articles, eBooks, and/or books.
After Elaine's presentation, she will answer questions and/or tell stories.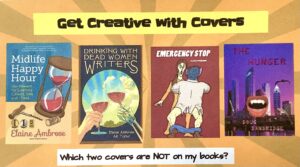 After 9:30 AM Pacific time, join the meeting by clicking on the link below from your laptop, computer, tablet, or smart phone.
https://us02web.zoom.us/j/83594683442?pwd=ZENDdEtPaEwxMDZMTWRxbDBUb0NLUT09


Meeting ID: 835 9468 3442
Passcode: 921209