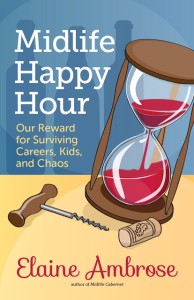 The Pacific Northwest Booksellers Association recently invited Idaho author Elaine Ambrose to be a featured author and introduce her new humorous book Midlife Happy Hour to help start the 2016 PNBA Tradeshow in Tacoma, Washington on September 29, 2016.
As a featured author, Ambrose will meet with the PNBA Board of Directors and booksellers from throughout the Northwest to sell books and discuss potential author events at their stores. Ambrose will be a guest of the tradeshow which runs from September 29 through October 2. PNBA Tradeshows and educational workshops are open only to book industry professionals, including booksellers, authors, exhibitors, publicists, librarians, and volunteers. The shows are not open to the general public.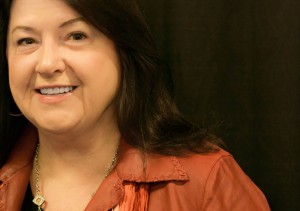 Elaine Ambrose is a #1 bestselling author of eight books. Her book Midlife Cabernet won two national humor awards, Publishers Weekly reviewed it as "laugh-out-loud funny!" and Foreword Reviews wrote that the book was "an argument for joy" similar to Erma Bombeck. Her nationally-recognized syndicated blog posts are published on several websites, and one humorous post was named as one of the most read posts in the history of The Huffington Post. 
In Midlife Happy Hour, Ambrose boldly writes her latest kiss-my-attitude book as a sassy sequel to Midlife Cabernet. Ambrose shares her festive life experiences and career-crushing anecdotes as she explains how to remain relevant after age 50, why grown children make great travel companions, and how to balance midlife without falling over. Ambrose notes that her feminine mystique sprung a leak after years of competing as a funny female in a serious male job market. Now the hard work is done, and she invites midlife women to join her for Happy Hour. The book, published by Brown Books Publishing, is available for pre-order and will be in book stores across the country in October.
The book premieres in Boise on October 13 at Telaya Winery. The winery will introduce a red wine that features the cover of the book as its front label. Elaine lives with her patient husband in Eagle, Idaho. Read about her books, blogs, and speaking events at www.elaineambrose.com.

The Pacific Northwest Booksellers Association  is a nonprofit trade association representing the interests of literacy, free speech and independent bookselling in Alaska, Idaho, Montana, Oregon and Washington. Members include: owners and managers of independent and chain bookstores; publishers; publishers' sales representatives; distributors; authors; publicists; librarians; book reviewers; producers of sideline items; and other friends of the trade are represented as associate (non-voting) members.