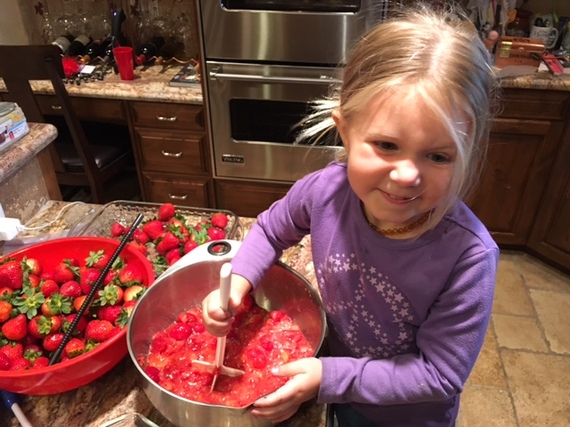 Autumn always brings memories of my grandmother canning and preserving fruits and vegetables from her garden. She harvested the remaining summer produce and worked over boiling kettles in her kitchen until the peaches, pears, cucumber pickles, beets, tomato soup, and apple sauce were packed, sealed, labeled, and stocked in a mosaic array in the cool pantry. The food, along with bins of potatoes and onions and sacks of flour and sugar, would sustain the family through the winter. Protein came from chickens and other livestock on the farm. Living on an isolated farm in southern Idaho didn't offer the luxury of a supermarket or freezers.
My mother often canned and froze food, and grape jelly was her specialty. She would process hundreds of little jars of jelly, often attaching little gingham covers that she cut with pinking shears. I still have some in the back of my pantry. I attempted to continue the tradition, but often failed. After 60 quarts of green beans didn't seal and had to be throw out, I decided I'd rather spend one dollar at the store for a few cans of beans.
I do have one easy recipe I call Generation Jam. The main ingredients require at least two generations: one grandmother and one grandchild. Recently my daughter-in-law and her daughter came over for the jam party, and the three of us finished 44 jars of frozen Generation Jam with strawberries and basil in less than two hours. The recipe is as follows:
Strawberry Basil Freezer Generation Jam
(Fresh basil makes this jam extra-tasty on toast or ice cream.)
Wash jars and lids, wash and hull four quarts of fresh strawberries. To easily remove stem and core, insert straw and push through the berry. Wash fresh basil, make labels on your computer. (I made labels with my granddaughter's name. The jars make perfect gifts for teachers and friends.)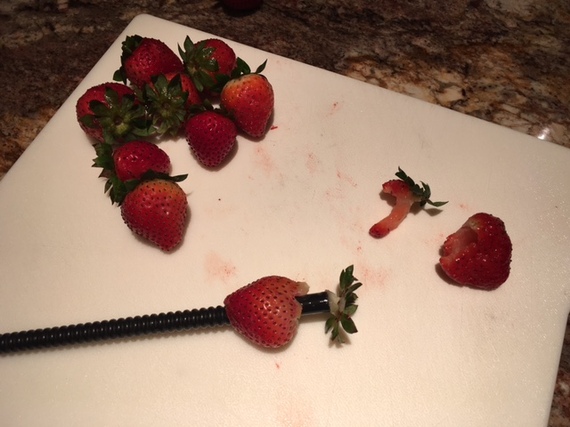 At least two family members from different generations
8 cups mashed, hulled strawberries
2 cups white sugar (We always use a bit less.)
8 tablespoons pectin
1/2 cup finely chopped fresh basil
One granddaughter mashes strawberries in a large bowl. I didn't have a potato masher so we used a raw hamburger mixer. A food processor works well, too, but isn't as fun.
One mother needs to warm sugar and pectin in a saucepan until sugar dissolves, according to instructions on the pectin package. You also can use instant pectin and eliminate the heating process.
One grandmother chops the basil.
Granddaughter scrambles strawberries, sugar/pectin mixture, and basil together. The mixture needs to stand for about three minutes. That allows time to munch on leftover berries.
An adult ladles the jam into the jars. (Plastic tubs with lids can be used, too.)
Granddaughter attaches labels.
Let the containers stand at least 8 hours. Freeze most and keep one or two in the refrigerator for consuming within two weeks.