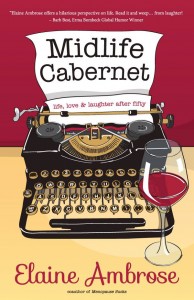 Almost 38,000 people downloaded a copy of Midlife Cabernet during the past 24 hours, making it the #1 ranked book in the humor category on Amazon Kindle and the #3 ranked book in the Top 100 Books sold.
Midlife Cabernet – Life, Love & Laughter After Fifty is the winner of two national humor awards and two additional awards from the recent book extravaganza in Boise. Publishers Weekly wrote that the book is "laugh-out-loud funny," and ForeWord Reviews wrote that the book is an "Erma Bombesque argument for joy and a tribute to women over fifty."
The 18 humorous essays include subjects ranging from "Midlife Mating and Dating" to "Party Time in the Empty Nest" and "Arousing Fifty Shades of Grey Matter." The author believes that midlife is the reward for not dying young, and she encourages women to grab a glass of wine and get ready because the best is yet to come.
The paperback version is ranked in the top 1% of books sold, out of more than 32,800,000 books listed on Amazon.com.
The Kindle version on amazon.com is available for a free download until December 27, 2014, then the price returns to $2.99. The paperback is available for $12.00. The book was published by Mill Park Publishing in Eagle, Idaho.