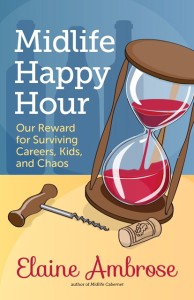 Midlife Happy Hour – Our Reward for Surviving Careers, Kids, and Chaos ranked #54 in pre-sold editions on Amazon.com out of thousands of books in the mid-life category. The book, a sequel to the award-winning, bestselling Midlife Cabernet, will be officially released on October 4, 2016. Pre-orders can be made now to insure first delivery from Amazon. The book also will be available in local stores, including Rediscovered Books in Boise, online, and through national bookstores.
Officials from the Pacific Northwest Booksellers Association invited me to speak and premiere the new book at the tradeshow in Tacoma, Washington on Thursday, September 29. I'm leaving Thursday and promise not to embarrass the state or my family. On Friday, September 30, I'll be speaking on an author/small publisher panel with Boise author AK Turner, Rediscovered Books owner Bruce DeLaney, and realtor/author Mike Turner, all from Boise. We'll discuss methods of establishing positive relationships between writers, small publishers, bookstores, and the community.
The Boise area premiere party will be October 13 at Telaya Winery. A special edition red wine will be introduced using the cover of the book as the label on the bottle. The public is invited to attend and share laughter and libations.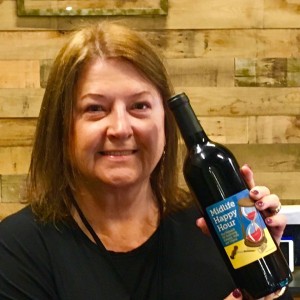 Product Details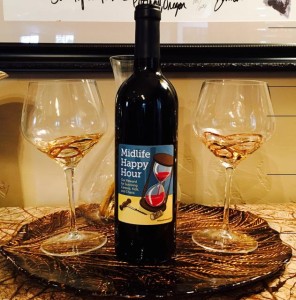 Here are the chapter titles for Midlife Happy Hour:
Early Signs I Wasn't Eligible for Sainthood
The Great TV Blooper of Southern Idaho
What if Arts Patrons Acted Like Sports Fans?
The World Can Kiss Our Attitude
Stay Relevant and Thirsty, My Friend
Why Your Children Are Cute but Should Move Out
My Feminine Mystique Sprung a Leak
Reinventing the Wheel of Fortune
Validation on a Volcano
Mom, I Joined the Army
Balancing Midlife Without Falling Over
Blog Your Way to Fame and Shame
My Fish Won't Hump Your Leg
Still Laughing in the Empty Nest
Midlife Crisis of Confidence
Coloring Outside the Lines
The Joy of Traveling with (Grown) Children
Tell Enchanting Stories to the Grandkids
My Views from Behind the Podium
What to Wear if You Must Get Dressed
The Suffragist Ghosts of Susan and Alice
Why Caregivers Drink
How to Plan a Funeral
Happy Hour, At Last!
Midlife Happy Hour is available at bookstores, including Rediscovered Books in Boise and Barnes & Noble. Find it online at Amazon.com and Barnes & Noble. E-Book versions are available at Kindle, Nook, IBooks, and Google Play. An audio book will be released soon.