It's time to laugh again. Click this link and be one of the first to get a copy.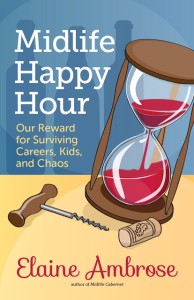 Here is a list of the chapters:
Early Signs I Wasn't Eligible for Sainthood
The Great TV Blooper of Southern Idaho
What if Arts Patrons Acted Like Sports Fans?
The World Can Kiss Our Attitude
Stay Relevant and Thirsty, My Friend
Why Your Children Are Cute but Should Move Out
My Feminine Mystique Sprung a Leak
Reinventing the Wheel of Fortune
Validation on a Volcano
Mom, I Joined the Army
Balancing Midlife Without Falling Over
Blog Your Way to Fame and Shame
My Fish Won't Hump Your Leg
Still Laughing in the Empty Nest
Midlife Crisis of Confidence
Coloring Outside the Lines
The Joy of Traveling with (Grown) Children
Tell Enchanting Stories to the Grandkids
My Views from Behind the Podium
What to Wear if You Must Get Dressed
The Suffragist Ghosts of Susan and Alice
Why Caregivers Drink
How to Plan a Funeral
Happy Hour, At Last!