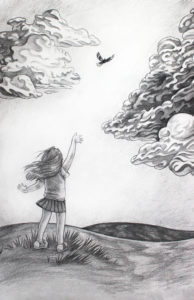 Idaho author Elaine Ambrose will introduce her latest children's book at a virtual and drive-by event on Saturday, November 14 at SpurWing Country Club. Proceeds will benefit Special Olympics Idaho. People can view online Eventbrite details or stop by Spurwing, 6800 N Spurwing Way in Meridian, between 2:00 pm and 4:00 pm to purchase an autographed book and two toys for $20. Due to social distancing regulations, masks will be required and there won't be a program.

The book tells the story of a ten-year-old girl with Down syndrome who meets a talking bird named JuJu. Using a 3D printer, they create a magical flying machine. Slant3D in Nampa manufactured toys with a 3D printer to accompany the book. The 88-page chapter book is written for ages seven through eleven and includes creative illustrations by Idaho artist Caroline Zina. The book was published by Brown Books Publishing and also is available in eBook format and in audiobook read by the author. They are available online or can be ordered from local bookstores and libraries.
National professional reviews have been positive. Publishers Weekly awarded the book with a "lightning bolt" designation, indicating an "Editor's Pick for a Book of Outstanding Quality." The review to be published in the November issue of Publishers Weekly noted that: "Award-winning humorist, memoirist, and children's author Ambrose adds another hit to her roster with a third children's book." Kirkus Reviews  wrote the book "is a joyful, well-told story that celebrates the power of imagination."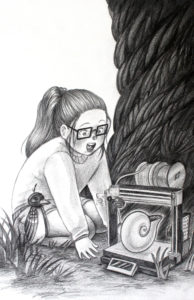 Readers within the Down syndrome community also gave positive reviews. Allison Zoccola has an adult brother with Down syndrome and sent these remarks: "WOW – your book is incredible. I can imagine reading this to my daughter with so much joy and pride in having the main character proudly represent such an underrepresented population of phenomenal people. The illustrations are marvelous with so much depth, and truly enhance and bring more life to the words on the page.  The descriptions are peppered with realistic details and mannerisms – like fidgeting with the strings on her outfit – and bring so much life to the story for me. Having a brother with Down Syndrome, I know all too well the habits, repeated routines, safe places etc., that make up the day of an individual with Downs. I genuinely enjoyed reading it and I can't wait to read it again."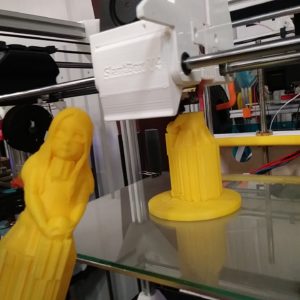 Ambrose is the bestselling author of ten books, a viral blogger, and certified workshop facilitator. She has won national writing awards for books in three genres: humor, memoir, and children's books.