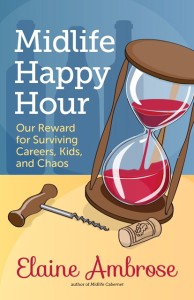 If you're looking to purchase and read Midlife Happy Hour by #1 bestselling author Elaine Ambrose, first try a local bookstore such as Rediscovered Books in Boise, Idaho. If independent bookstores don't have the book in stock, they can order it through various distributors. You also can check your local library.
If you want to order online, the book is available on Amazon.com in both paperback and e-Book versions and through Barnes & Noble in both paperback and e-Book. Other sources for e-Book editions include ITunes and Google Play.
Midlife Happy Hour – Our Reward for Surviving Careers, Kids, and Chaos is a kiss-my-attitude collection of humorous essays that encourage midlife women to celebrate a time of life when they can boldly declare that they're still relevant, resilient, and ready for another round. The book is the sequel to the #1 bestselling book, Midlife Cabernet.