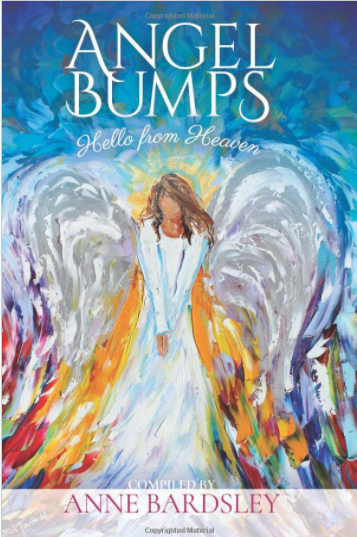 $3.99 K $14.95 P
Publisher:

Mill Park Publishing

Available in:

Kindle, Paperback

ISBN:

0997587113

Published:

August 1, 2017
BUY ON AMAZON
Have you experienced an Angel Bump? A sign could come from the sudden appearance of a butterfly, finding a coin or a feather, hearing a memorable song, having a vivid dream, or feeling the presence of a departed loved one. Fifty authors from around the country contributed 60 tender stories in this collection that will console anyone who is grieving the loss of a loved one. Each author shares a sign from Heaven that reassured them their loved one is still near in spirit. While people die, love is eternal. An Angel Bump is like a luminous light in a dark room. Once you receive a sign from your loved one, you will never be the same. Knowing they are still so close will give you solace. The joy it brings is immeasurable. Some Angel Bumps will make you smile. Others may bring tears to your eyes. One thing is for sure. You will feel loved. After reading Angel Bumps, you might want to keep your eyes open. Be aware. An angel bump can come when you least expect it. Don t miss your very own, sweet, Angel Bump and a hello from Heaven.
When my mom passed away, I was lost. While driving to work, I asked her to send me a sign that she had made the journey to Heaven. I felt a hand on my cheek ever so lightly and gasped, "What the heck was that, Mom? I need a real sign!"
As I turned the corner, I'd only gone fifty yards when my car was engulfed with little white butterflies. It was a butterfly blizzard. "I could imagine my mom laughing, "Did you get that one, Anne?" I laughed, then I sobbed.
Since that day, a white butterfly arrives often and especially at family celebrations.
My son's graduation from high school was the first she 'd missed. Or I thought so until a white butterfly comforted me on my front porch. I was sipping coffee, bawling and talking to her when the butterfly arrived.
Later, as my son and his wife were practicing their vows at a garden wedding, the butterfly arrived again and flitted between them as if she was sprinkling them with blessings.
In this book, I tell more of her arrival stories. Others tell their sweet stories that will renew your spirit.