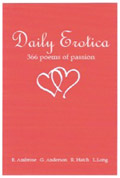 By Elaine Ambrose, G. Anderson, R. Hatch, L. Long
Looking for your lost libido? Read just one poem a day from this fabulous book!
Daily Erotica – 366 Poems of Passion was written by four women who met at a writer's group in Eagle, Idaho. Their poems are to be read out loud, one for every day of the year, and shared with a true love.
Sample Poem:
November 23
Your whispers of love
sing in my ears
and turn to sweet music
that moves my soul
and joins the tempo of our hearts
to beat as one.