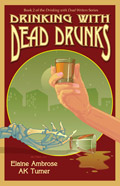 By Elaine Ambrose and AK Turner
Have you ever wondered what it would be like to share a drink with Ernest Hemingway or Jack London? Authors Elaine Ambrose and AK Turner take you on imaginary meetings with 16 famous – but dead – writers, including Edgar Allan Poe, John Cheever, and Willuam Faulkner. Their actual quotes are used to create clever cocktail conversations. This book is a sequel to Drinking with Dead Women Writers – a literary romp with 16 famous and equally dead women writers.
Both books are available for only $10 each plus shipping.