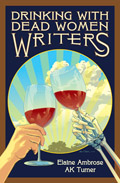 By Elaine Ambrose and AK Turner
This book won awards for Fiction, Best Cover Design, Best Author, and Best Interior Design from the Idaho Book Extravaganza Book Competition.
Idaho authors Elaine Ambrose and AK Turner share their talents for storytelling in a sassy new book about 16 famous dead women writers.
Most early female writers used pen names because women weren't regarded as competent writers. Margaret Mitchell wrote only one published novel in her lifetime, but *Gone with the Wind *won the Pulitzer Prize for Fiction in 1937 and sold more than 30 million copies. Emily Dickinson was so paranoid that she only spoke to people from behind a door. Carson McCullers wrote The Heart Is a Lonely Hunter at age 22. Her husband wanted them to commit suicide in the French countryside, but she refused. Ambrose and Turner explore these and other intriguing facts about the most famous women in literary history.
"I was completely enthralled by DRINKING WITH DEAD WOMEN WRITERS, as Elaine Ambrose and AK Turner took turns in a fantastical romp through literature and drink, tossing back cocktails with some of the greatest female voices in literary history, cracking wise, prodding for answers to insightful questions, allowing us to know these writers and their minds in essays both hilarious and thoughtful. A rare mix of cleverness and intellect, and a total blast to read."

-Alan Heathcock, award winning author of VOLT
Ambrose is the author of Menopause Sucks and an author of five other books. Her short stories and feature articles appear in several anthologies and magazines. Turner is the creator of "The Writers' Block" on Radio Boise. She writes a humor column for the Boise City Revue and served as a Writer-in-Residence.
Drinking with Dead Women Writers is available from Mill Park Publishing, local book sellers and Amazon.com in paperback or ebook format.