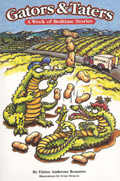 By Elaine Ambrose
The young and the young at heart will be touched and delighted with this unique collection of eight original bedtime stories created to inspire children to wonder about characters, places, and adventures. Lyrical language, captivating scenes, and gentle messages provide a safe and soothing message at the end of the day. Because there is ony one illlustration per story, children can use their imaginations to complete the details.
Gators & Taters has received the following honors:
Selected for Bowker's National Recommended Reading List for 2004 – ony 50 children's books are listed annuallly
Selected for Idaho Public Television "First Books" program with Statewide distribution to underprivileged children
Selected for State of Idaho "Read Out Loud Crowd" program
Selected as "Best Children's Book of 2003" by a national reviewer
Selected for Summer Reading List for the Log Cabin Literary Center in Boise
Selected for the Barnes & Noble Summer Reading Program in Boise
Gators & Taters was written by Elaine Ambrose, owner of Mill Park Publishing.
The book is available for $9.95 (plus Idaho sales tax) from Mill Park Publishing.