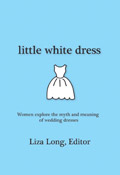 Edited By Liza Long
This book won a Bronze Award in the Womens Issues Category from the 2012 Independent Publishers Book Awards Program (IPPY).
A simple message on Facebook about observing used wedding dresses at thrift shops captured the attention and creative skills of 25 women who spontaneously gathered in one day to write their stories about "The Dress." Six weeks later, Mill Park Publishing had compiled the stories into a book.
Award-winning author Alan Heathcock wrote this review for the back cover:
"If I learned something about women from this awesome little book, it's that each has her own dress, her own story; some of hopes fulfilled, some tragic, some funny, all compelling. Little White Dress holds the truths of humanity stitched into every poem and story. It sometimes made me laugh, sometimes made me somber, but always made me consider how the value of the dress has little to do with the fabric."
The book is available for $10.00 (plus Idaho sales tax) from Mill Park Publishing, Amazon.com, and some Boise stores.