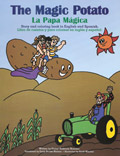 By Elaine Ambrose
A bilingual color and story book that has been approved by the Idaho State Board of Education for the state-wide curriculum. Hop on the Magic Potato and learn fun and interesting facts about Idaho as he flies around the state! The easy-to-read story includes side-by-side English and Spanish versions that cover days of the week, colors, and numbers.
The Magic Potato was written by Elaine Ambrose, translated by Emily Nielsen, and illustrated by Heidi Winchel.
The book is available for $3.00 from Mill Park Publishing.