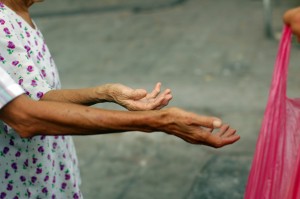 I'm haunted by an experience this morning outside the grocery store. In a hurry to move the purchased food from my cart into my car, I didn't notice the middle-age woman until she walked over and stood beside me, close enough to touch me.
"I want food," she said in broken English, barely in a whisper.
I was startled that she stood so close, and I wasn't sure I heard her correctly.
"Pardon me?" I asked.
She wore a cultural dress and head covering, but didn't make eye contact. Immediately I felt compassion for her. Then I saw him. A man stood a few cars away in the shadow of some trees. He was watching us. He was dressed in a white tunic and appeared healthy and able-bodied. I admit that I instantly profiled him, and compassion changed to caution. I looked around but didn't see any security, only several women alone loading groceries into their cars.
I could have handed her the chicken, soup, bread, and cheese I had purchased. But I didn't. Because of the man.
I said, "I'm sorry." Then I locked the car, returned the cart to the store, and reported the incident to the customer service staff. By the time I returned to my car, the couple was gone.
Since then, my mind has been whirling with questions. Were they really hungry? Was she on an assignment? Would he punish her for not getting food from me? Did other women freely give some of their food and not think twice? Did I read and watch too much news?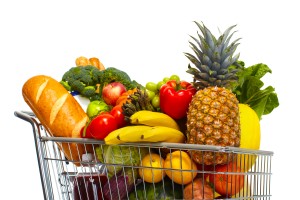 Being approached in a parking lot in quiet southern Idaho was a new experience for me. Law enforcement officials remind citizens not to give to people who ask for money because there are shelters and social service programs that can help those in need. I donate to charities, but only to established organizations such as the local Food Bank, Dress for Success, the Women's and Children's Alliance, and the Cabin Literary Center.
Last year, I donated $2,000 to the Wassmuth Center for Human Rights so 200 local school children could see the documentary "He Named Me Malala" about Malala Yousafzai, a 15-year-old school girl in Pakistan who advocated for education for girls. Terrorists attempted to kill her for her beliefs but she survived a gunshot to the head and now leads a global campaign for girls' education as co-founder of the Malala Fund. For her brave advocacy, she received the Nobel Peace Prize at age 17.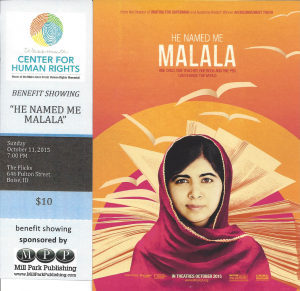 The film was produced by acclaimed documentary filmmaker Davis Guggenheim, and I attended a premiere showing in New York last July. The film captures the strength and resilience of one girl who is destined to improve opportunities for girls and women. In other parts of the world, girls are being murdered, tortured, and poisoned just for going to school, and I agree with Malala that it's time we placed a priority on education for girls. Education is freedom.
Still, I'm haunted by the image this morning of the meek woman asking for food. As a Christian, I wonder what would Jesus do? As an advocate for female education, I ask what would Malala do? I'm sure both would offer groceries, take her by the hand, and show her the way to freedom. Then she could choose to feed herself or go back to the stern figure lurking in the shadows.
The next time a woman asks for groceries, I'll be better prepared to share mine without question or judgement. But, I believe this woman hungered for much more than I had in the cart.