I'm a goofy grandmother from Idaho who enjoys making humorous memes. The only profit I receive or want is from laughs and likes from readers. I recently posted a meme on Facebook and Instagram, and the super-sensitive censors on Instagram instantly slapped a warming on it. A few people said my meme was removed from their timeline. Here is the horrible, offensive meme: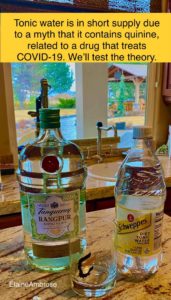 In my opinion, a good story, joke, or meme requires three elements: fact, irony, and a funny punch line. My meme was based on fact: I was in the Liquor Store (on research) and noticed a sign limiting tonic water to four bottles. I asked the clerk why, and he said because a rumor on social media said the ingredient in tonic water prevented or cured the C-virus. (I'm not spelling the name because there are rooms full of investigating spies who follow instructions to doom anyone who posts a joke about said disease.)
I went home with my gin and precious tonic and researched. Yes, I found the claim is untrue, so I wrote in my meme that it was a myth. I ended with a humorous line. That's it. No one was injured, insulted, or misled by my meme. But, it still has a disclaimer attached.
One of my favorite comedians, George Carlin, would not have existed in this punitive climate of humor judges on social media. Without irony and satire, we're slowly becoming compliant and complacent robots marching to the beat of a crabby drummer.
I will continue to make my memes until my accounts are deleted by some nefarious computer algorithm hiding in the dark bowels of social media. In the words of Aunt Olga, one of my favorite meme characters, "I no give a sheet."
Here are some of my favorite memes: