The Ambrose Storytelling Endowment at the University of Idaho was created by bestselling author Elaine Ambrose as a tribute to the memory of her brother, George Ambrose, and to support the tireless power of storytelling. George and Elaine grew up on a farm outside Wendell, Idaho, and were known to spin a clever yarn at any moment.
The endowment will support a student scholarship, faculty research award, and an annual on-campus storytelling workshop through the College of Letters, Arts and Social Sciences (CLASS). The first workshop is scheduled for March 21, 2018 at the University of Idaho. Benjamin James, assistant professor in the Department of English, will organize and lead the workshop. The program includes interactive discussions about story selection, word choice, finding the best voice, and elements of storytelling.  Elaine Ambrose will speak about "Telling Your Story."
"From boisterous tales around rustic campfires to eloquent readings from leather-bound books of great literature, storytellers share enduring myths, legends, fairy tales, and adventures to amuse, educate, and motivate every culture on earth. It's my honor to acknowledge my brother George and to support excellence in storytelling at the University," said Ambrose.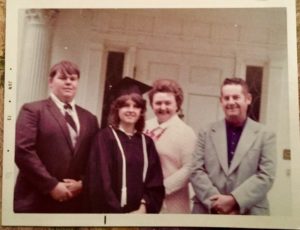 Elaine Ambrose graduated from the U of I with Phi Beta Kappa scholastic honors with a degree in Journalism. She is the bestselling author of ten books, a syndicated blogger, and humorous speaker. She was the National President of the U of I Alumni Association and served on the Foundation Board of Directors.
George Ambrose also graduated from the University of Idaho after being a leader in the Interfraternity Council and serving as an ASUI Senator. Both George and Elaine sang with the Vandaleer Concert Choir, and Elaine traveled with the choir to Europe, and George traveled to South America with the Vandaleers. George continued to tell stories and jokes just hours before he died from cancer in May of 2017.
Leona Ambrose, mother of George and Elaine, funded the Ambrose Family Scholarship before she passed away. The endowment funds scholarships for students from the Magic Valley area in southern Idaho. In 1998, Elaine funded the Vandaleer Travel Endowment to help with the choir's tour expenses. For more information about the scholarships and endowments, contact the      University of Idaho Foundation, 875 Perimeter Drive MS 3143, Moscow, Idaho 83844-3143 or email gifts@uidaho.edu.