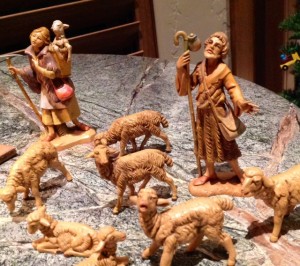 I have several Nativity sets of various sizes and enjoy including them every year in my Christmas decor. For 15 Decembers, my children arranged the sturdy but beautiful pieces on the main set. Now their children design the scenes with the same creative concentration. As the family gathered to feast and celebrate this Christmas, my 7-year-old granddaughter carefully moved every animal and character until she was satisfied with the arrangement. Then she asked a serious question.
"Did the shepherds laugh?"
I scrambled to think of an answer and came up with, "Of course they did. After all the little sheep were asleep the shepherds sat around the campfire and told stories and laughed. The same thing happens when your family goes camping."
I thought that would suffice, but second-graders are known for asking multiple questions just to see if adults can provide multiple answers before their heads explode.
"Have you ever seen a shepherd?"
My mind raced to think of any shepherds I could remember. The first thought was of the scene in The Godfather movie when Michael Corleone is banished to Sicily to live among the shepherds so he can escape being murdered by the mafia. That scenario wouldn't work. Then I thought of my Basque friends. Perfect.
"Yes, I know some funny shepherds," I answered. I could tell she was pleased, but she waited for more details. "Idaho has a large population of Basque people," I said. "Many of them raise and tend sheep, and all the Basque people I know are happy. They love to get together to dance and sing and eat delicious food, and of course, that brings laughter."
She turned back to the Nativity scene and moved the shepherds closer to the manger. I quietly moved away, grateful that I had avoided the shameful disappointment of not having an answer. But, it was too late.
"Tutu," she called. "Did Baby Jesus laugh?"
I couldn't remember any verses or stories about Baby Jesus laughing, so I briefly considered the easy excuse of saying, "Go ask your mother." But, I decided to answer the question with a question.
"What do you think?"
She took no time to ponder but quickly declared, "Of course he did."
That ended our Q and A session and she ran off to play with her cousins. I glanced over at the Nativity set because I thought I heard a soft giggle. Maybe I imagined the sound because of the fine wine the adults had been sharing. Or, was it something else? I needed to go ask a child.