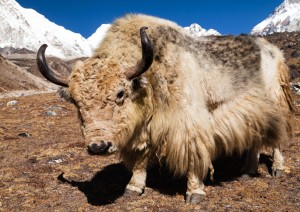 If you want to speak in public, there are rules to follow: Pre-check your teeth for broccoli, and tame your irritable bowel syndrome. Remind the audience to turn off cell phones and stay awake because your words could change their lives. Don't dress like a yak.
This month I spoke at two national conferences and learned the hard way to follow my proven dress code: I should wear black at all times and under all circumstances but throw in a tiny bit of color. Otherwise, I could resemble a large, woolly beast.
At the prestigious Erma Bombeck Writers' Workshop in Dayton, Ohio, I obeyed my rules. I felt confident in my chosen wardrobe that included a black jacket with a turquoise shell. I was ready to mingle with other speakers and comediennes half my age, and some of us even created entire comedy routines when we met in the bathroom of the hotel. On one occasion, humorists and authors Stacey Lowrey Gustafson and Anne Bardsley posed with me for a festive photo next to the latrines. It was a special moment.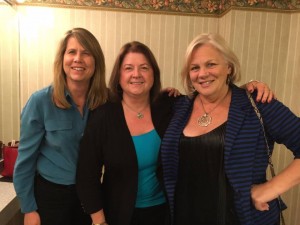 More than 350 writers attended the conference, some with an abundant sense of style and a few who didn't care. I presented two workshops, one on publishing and one on writing humor. Because I'm larger than a bread box but have the same shape, I always wear black. The dark color diminishes my football linebacker shoulders and attempts to hide my super-sized bosom that over the decades has dropped from perky to pendulum. If I know the presentation will be videotaped, I refuse to turn sideways because I will block out any redeemable image. There is a smidgen of pride somewhere buried in that incredible hulk.
For my presentations, I wore a conservative black knit dress and a long black and white tweed sweater. I often felt like a fraud as I encouraged others to have self-confidence and revel in their majesty as I tugged at my jacket to hide the body that longed to be a single-digit size again. But damn, the dessert cart offered cheesecake and it would go to waste if I didn't have a few samples. And it's not right to allow a bottle of wine to sit half-empty and forlorn. It must be consumed for the greater good of society.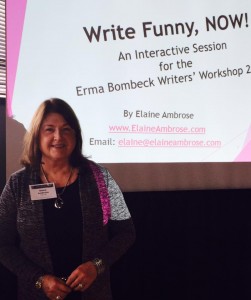 Two weeks after the Erma Bombeck conference, I spoke at the BAM Bloggers at Midlife Conference in Las Vegas, Nevada. More than 150 attendees came, and I knew I found my tribe. The first night, I wore a black tank top with a colorful long vest. I took a chance on going sleeveless, but no one vomited. I met some best friends I had know for years only online, including Donna Beckman Tagliaferri.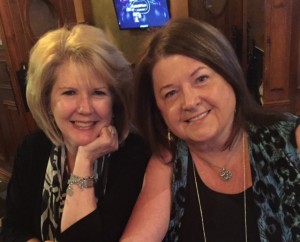 However, for my presentation, my brain left my body as I decided to go with an outfit that broke my rules. I chose a long vest again but the material was in a bulky, hairy knit of cream dappled with brown leather squares. I resembled a yak. I knew I had made a mistake as I lumbered to the podium with Emmy Award winning author and screenwriter Judy Rothman Rofe and dynamo author Janie Emaus. They were dressed in solid colors and both were the size of Thumbelina. I wanted to detour out the side door and join my herd of grazing animals on a hillside far, far away.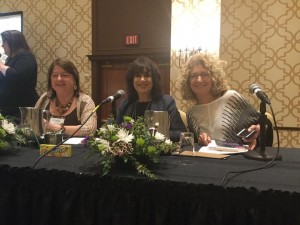 Our panel discussion was vibrant and informative, and I was grateful for the table that hid half of my body. We breezed through the presentation and no one stood to yell, "Why didn't you wear black? You always wear black!"
I continued with the outrageous fashion mistakes when I changed into a Vegas-inspired blouse for dinner. In the photos, the silly top looked like a tablecloth and I resembled a retired matron playing cards on a cruise ship. But my friends didn't seem to mind because I made them look so much better.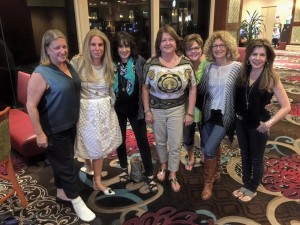 The event was salvaged at a Disco-themed night when I happily wiggled into my black dress adored with sparkles and fat-shaping Spandex. As the music permeated the room, I danced with wild abandon and laughed myself silly as I gyrated to the beat of the Bee Gees and ABBA. The Yak died and I became the Dancing Queen. It was Friday night and the lights were low. I was looking out for the place to go. The dress was black but covered with bling. I raised my arms and sang out loud:
"You can dance, you can jive, having the time of your life.
See that girl, watch that scene, digging the Dancing Queen."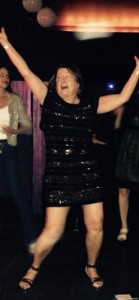 The moral of the story is that some of us are too concerned with wearing basic black when we could add some sparkles and go dancing. After an hour of Disco music, no one really cared what anyone was wearing or if they were even human. It was all a matter of "I Will Survive" while "Staying Alive."