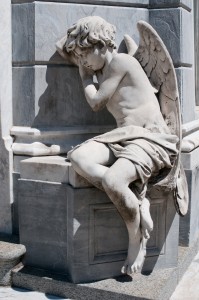 I've helped organize weddings, including a few of my own, but planning a funeral is a different type of hectic, emotional activity with a demanding timeline. The details could leave you breathless. Oops, wrong word.
In a wedding, you have months to prepare. With a funeral, you have days and you'll need to interrupt your own grieving to organize the deadly details. A few generations ago, the family would clean and dress the body, prop it on the dining table next to the potato salad, throw a party, and then bury the dearly departed in the family plot on a nearby hill. Now, there is a complicated checklist that rivals the NASA instructions for a lunar landing to make sure your loved one has a proper burial.
Because everyone eventually dies, someday you may need to organize a funeral. Here are some helpful tips:
Don't lose the body. My sweet mother recently passed away. I had arranged for a local funeral home to pick up the body and transport it to another funeral home 100 miles away to her hometown. Two days later, she still hadn't arrived. After frantically calling and trying to use my inside voice, I received an email saying that the driver was in route and my mother was near Bliss. I responded, "Of course, she is." (Bliss is the name of a village near her intended destination.) I have no idea where she went for the weekend, but I assume she had a good time and that, somewhere, my parents were laughing.
Don't allow details to be the death of you. Notify key family members, but tell them you don't need any help because planning through a committee could be fatal. Open a bottle of wine, sit down with a notebook or computer, and begin to make decisions: choose pall bearers, write the obituary, approve the death certificate, notarize details for the IRS, finalize the funeral place and program, chose the music and performer, arrange for food and flowers, contact the cemetery, make decisions about embalming and donations, and decide what clothes the person will wear and who should do the hair. Do you want rings removed? Do you want the casket with the pretty roses or the sunset? And, don't forget the musical video. Do all this in a few days while keeping a stiff upper lip. Sorry, wrong word again.
Don't present a stupid program. If you think Aunt Bernice will go to the podium and wail for 20 minutes, discreetly suggest she save her remarks for the reception, preferably after the first two rounds of drinks. If you want to include some literary orations, avoid Robert Service's famous poem, "The Cremation of Sam McGee." And, finally, if all your music sounds like the "The Funeral March of the Marionette" followed by a requiem, a dirge, and a lone bagpiper, expect some of your guests to fall onto the ground and beg to be the next to die.
Don't overwhelm the undertaker. I'm thankful I chose a reputable Funeral Director instead of Billy Bob's Burial and Tire Changing Service. After my mother died, I had numerous questions. The Funeral Director patiently listened when I called in alarm and asked who would dig the grave. "We'll handle everything, Ma'am," he said. I was so relieved that I wouldn't need to ask my son to bring a shovel and a backhoe.
Don't turn the funeral into a bazaar. I once attended a wedding where one of the guests brought along Cutco knives to sell to the attendees. This is not appropriate for weddings or funerals. Even though I'll have a captive, emotional audience, I don't plan on arranging a book signing event after my mother's service. She always bragged to her friends that I wrote books, even though she never read any of them. I told her I wrote under the pen name of JK Rowling.
Don't allow expenses to haunt you. You may need to dig deep to unearth some money because the base cost for a funeral can range from $5,000 to $10,000. The choices vary from a pine box tossed into a swamp to an elaborate $25,000 casket carried by a procession of white limousines into a private plot. If you're hosting a boisterous reception after the funeral, save enough money to buy some quality liquor because you care enough to say goodbye with a fine Scotch instead of cheap moonshine.
Don't forget the living. After the funeral is over, use your energy and emotions to appreciate and connect with those around you. There are still a lot of people who aren't dead yet, and some of them need a friend.
Don't stop celebrating life. If anyone cares to organize a funeral for me (after I'm dead, or course), I want a full marching band to play John Philip Sousa marches and an open bar with plenty of exquisite Cabernet. And, I'm requesting lots of pie with ice cream because finally gaining weight will no longer be an issue.