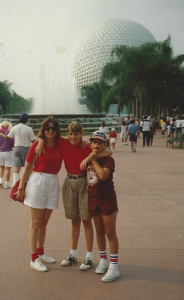 I love socks. I grew up in Idaho where the winters require boots and a collection of thick, colorful socks, enough to fill an entire dresser drawer. Also, my pitiful feet resemble hooves fringed with bald sausages, and they practically scream to be covered. I wore socks during childbirth because my feet were uglier than all the mess associated with labor and delivery.
While disheveled and haphazard in every other part of my life, I am fastidious about my sock organization. There are categories for work, play, sports, holidays, and whimsy. It's a sad day, indeed, when a hole appears in the heel or toe of a favorite sock. As a teenager, I knew how to drop a light bulb into the worn sock and sew the offensive gap with a needle and thread. I don't do that anymore.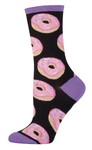 I've also outgrown my corporate fashion sense that ordered me to match my socks with my shirt. I have a favorite photograph that shows my children and me at the Epcot Center at Walt Disney World in Orlando, Florida. The vacation seems like only a few days ago, but it's been two decades. At the time, I was a manager at Boise Cascade Corporation and wore coordinated suits at work so felt that my socks must match my shirt during leisure times. In the photo, I'm wearing white shoes and shorts with red socks and shirt. I don't do that anymore, either.
Here are some distinct reasons why you should increase your sock collection:
They fit. You don't need to worry about trying on various sizes because there are basically two choices: medium fits shoe size 6 through 10, and large fits size 10 and above.
They are inexpensive. Sure, you can spend $25 for a good pair for skiing, but balance that with $2 for a 2-pack for everyday wear. It's less painful to throw away cheap socks when they are tattered and threadbare.
They complement your mood. If I'm in sophisticated fashion boots with a classic winter outfit, I often wear outrageous, unmatched socks to soothe the inner rebel.
Others know what gift you'll like. My daughter always gives me socks as a present because she knows I'll love and wear them. It's personal and fun but not demanding.
They bring comfort. On those rare occasions when you get to lounge around with a good book and a plate of cookies, toss the shoes and stay cozy in a favorite pair.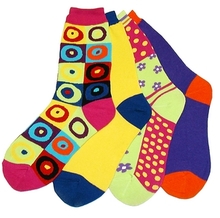 Here's one more recommendation about socks: Remember that a colorful life demands more than wearing boring attire. Limit your use of white socks, and tiptoe out of your comfort zone into some snazzy, bold patterns. Search on line at websites such as www.boldsocks.com or www.joyofsocks.com. You and your feet will be happy.