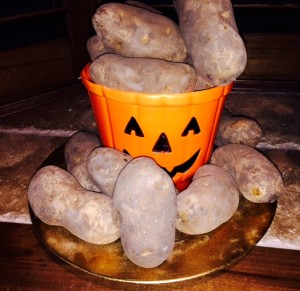 My cousin Ron Ambrose gave me some organic potatoes that he grew on land in southern Idaho that had never been farmed. They taste delicious, and I'm on the waiting list for more next fall. I grew up on a potato farm and worked on the harvesters in the fall. I love the tubers baked, mashed, boiled, fried, in casseroles, and in soups. My Idaho potato soup recipe that has been published in several cookbooks. Add corn bread, a salad, and apple crisp for a festive fall meal. Ignore the carbs. Be happy.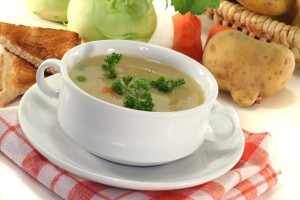 It's almost time for sweaters and jeans, a cozy fire in the fireplace, and a large pot of homemade potato soup. Here's my favorite recipe. It serves a large family or two teenagers.
6-8 Idaho Russet potatoes, cubed, (peeling is optional)
(I can't guarantee quality if other, lesser spuds are used from other states.)
1 pound spicy, bulk Italian sausage
1 pound regular, bulk Italian sausage
One onion, diced
6 stalks of celery, diced
2 Tablespoons mustard seed
4+ Cups Chicken Broth
2 Cups of Cream or Half-and-Half
Salt, Pepper
Optional: 2 cans of creamed soup, any kind
Cover spuds with chicken stock (add water, if necessary to cover spuds) and boil in a large soup pot with mustard seeds for 10-15 minutes. Do not drain. (The mustard seeds are for my mother who always believed the parable of having the faith of a mustard seed.)
In separate large skillet, brown sausage. Sauté onion and celery in sausage drippings or olive oil.
Combine all ingredients into the soup pot. Add salt and pepper to taste. My hubby adds red pepper flakes, but he's not from Idaho. (For thicker soup, add 2 cans of creamed soup, any kind.)
Heat but don't boil. Yummy. This soup is delicious to reheat for several days but doesn't freeze well. If frozen, the spuds get mushy so pretend it's cream of potato soup.
My favorite memory with this soup: My wee 2-year-old granddaughter and my 80-year-old mother competed for the last helping.