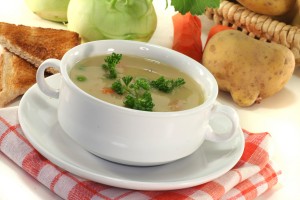 Record-breaking amounts of snow and frigid temperatures mean it's time for sweaters and jeans, a cozy fire in the fireplace, and a large pot of homemade potato soup. Here's my favorite recipe. It serves a large family or two teenage boys.
6-8 Idaho Russet potatoes, cubed, (peeling is optional)
1 pound bulk spicy Italian sausage
1 pound bulk regular Italian sausage
One onion, diced
6 stalks of celery, diced
2 Tablespoons mustard seed
2 Cups Chicken Stock
2 Cups of Cream or Half-and-Half
Salt, Pepper
Optional: 2 cans of creamed soup, any kind
Cover spuds with water and boil in a large soup pot with mustard seeds for 10-15 minutes. Do not drain. (The mustard seeds are for my mother who always believed the parable of having the faith of a mustard seed.)
In separate large skillet, brown sausage. Sauté onion and celery in sausage drippings or olive oil.
Combine all ingredients into the soup pot. Add salt and pepper to taste. (For thicker soup, add 2 cans of creamed soup, any kind.)
Heat but don't boil. Yummy. This soup is delicious to reheat for several days but doesn't freeze well.
My favorite memory with this soup: My wee 2-year-old granddaughter and my 80-year-old mother competed for the last helping.