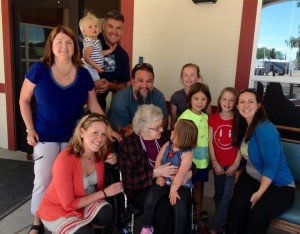 Birth is a time of celebration when family and friends gather to welcome a new life, full of opportunities and potential. Death, also, can be a time to rejoice and reflect with loved ones, especially if the deceased person exceeded her potential on earth. Such is the case with my mother Leona Ambrose.
The top picture was taken in July as her grandchildren, their spouses, and their children joined my husband and me for a visit at her assisted living facility. The second two photo was taken October 10, just three weeks before her death. Again, family members gathered around even though she could not remember names or faces. We were limited without a better camera, but the cell phone captured images of loving people. I especially treasure the shot of my mother and my sweet granddaughter. They have always shared a special connection.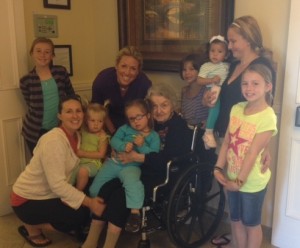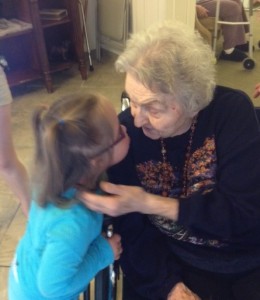 Sometimes we don't understand what goes on within families or why some people reject taking responsibilities for others. After next week's funeral service, we can all reflect of things we should have done, actions we could have taken to lessen the heartache of those we love. I must apologize to my mother for not trying harder to communicate with her first-born son. In her honor, I will forgive him for not visiting her for 15 years. But, I do that only for her.
Thanks, Mom, for loving your family. We will strive to continue your legacy of keeping an attitude of gratitude, even when life kicks us in the gut. Oh, and we'll also buy a new camera to record the next fabulous generation.