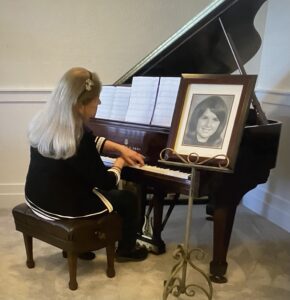 I was diagnosed with cardiomyopathy heart disease after suffering a heart attack in June. Surgery in July plus several prescribed medications have improved the function of my heart, but I continue to experience shortness of breath. I can't walk or talk very long, and I've had to cancel speaking gigs and postpone a few scheduled webinars for my writing workshops. I can do one thing: play piano.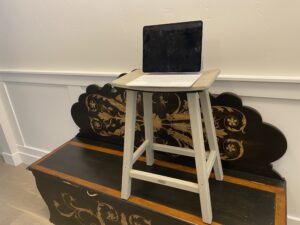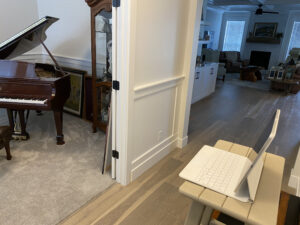 I started playing piano music to stimulate regular heartbeats and to share music. My elaborate recording studio consists of my iPad on a stool on a bench. I played the first song on August 1 and posted it to my Facebook account.
Requests started to come, and I kept playing. Most of the songs were my favorites, but there were a few new ones: I had never heard "One Little Candle," but now I love the song. The most difficult requests to play were "Stairway to Heaven," "You Must Love Me," and "Bohemian Rhapsody."
I wrote a synopsis for each request and enjoyed using various props, artwork, and outfits to go with each song. My hair changed color three times since August, going from brunette to blonde to "pewter." Pewter sounds so much better than "gray."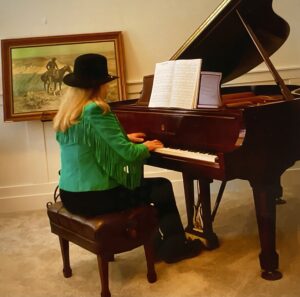 As I played each song, I imagined the person sitting in my piano room and listening to me play the requested song. I'm alone most of the time, so the experience was welcomed. My breathing has improved with the regular practicing and playing, and my weak heart is healing and full of joy.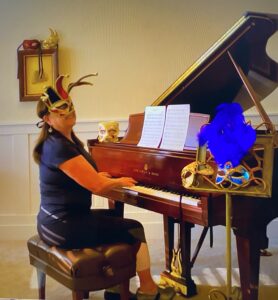 I'm taking a break after playing 80 songs in 80 days. I'll play and post more songs as Christmas gets closer. Who can resist some festive holiday music? I intend to keep the music playing as long as possible and share the healing harmony.
Here is the list of 80 songs:
August 1 – "If I Loved You"
August 2 – "His Eye Is On the Sparrow"
August 3 – "Born Free"
August 5 – "Hallelujah Chorus"
August 6 – "Moonlight Sonata"
August 10 – "Danny Boy"
August 11 – "Ode to Joy"
August 12 – "The Yellow Rose of Texas"
August 13 – "Turn Your Eyes Upon Jesus"
August 14 – "River Flows in You"
August 15 – "The Old Rugged Cross"
August 16 – "Bushel and a Peck"
August 17 – "Unchained Melody"
August 18 – "God Bless the USA"
August 19 – "Waltz Across Texas"
August 20 – "In the Garden"
August 21 – "Somewhere Over the Rainbow"
August 21 – "Morning has Broken"
August 22 – "How Great Thou Art"
August 23 – "You've Got a Friend"
August 24 – "When Blue Moon Turns to Gold Again"
August 25 – "What a Wonderful World"
August 26 – "Let it Be"
August 27 – "The Marine's Hymn"
August 28 – "Blessed Assurance"
August 29 – "You'll Never Walk Alone"
August 30 – "The Entertainer"
August 31 – "Stairway to Heaven"
September 1 – "The Highwayman"
September 2 – "It is Well with my Soul"
September 3 – "For You"
September 4 – "Walk Away Renee"
September 5 – "All Things Bright and Beautiful"
September 6 – "Shallow"
September 7 – "Golden Slumbers"
September 8 – "Happy Birthday" (Not counted in total)
September 8 – "Moon River"
September 9 – "Somewhere Out There"
September 10 – "Moonlight in Vermont"
September 11 – "Watermark"
September 12 – "What a Friend We Have in Jesus"
September 13 – Theme Song from "The Midnight Cowboy"
September 14 – "The Falling Leaves"
September 15 – "The 12th of Never"
September 16 – "You Must Love Me"
September 17 – "The Star-Spangled Banner"
September 18 – "Could it Be Magic?"
September 19 – "Time in a Bottle"
September 20- "Last Date"
September 21 – "Here We Have Idaho"
September 22 – "Tapestry"
September 23 – "In the Mood"
September 24 – Theme Song from "The Summer of '42"
September 25 – "One Little Candle"
September 26 – "Bringing in the Sheaves"
September 27 – "Sittin' On the Dock of the Bay"
September 28 – "Danger Zone"
September 29 – "Piano Man"
September 30 – "Take My Breath Away"
October 1 – "Battle Hymn of the Republic"
October 2 – "As Time Goes By"
October 3 – "Amazing Grace"
October 4 – "A Woman in Love"
October 5 – "Born to be Wild"
October 6 – "Some Enchanted Evening"
October 7 – "Nocturne" from "Secret Garden"
October 8 – "In the Garden"
October 9 – "I Dreamed a Dream"
October 10 – "His Eye Is on the Sparrow"
October 11 – "Fields of Gold"
October 12 – "Berceuse"
October 13 – "In the Arms of the Angel"
October 14 – "Mrs. Brown, You've Got a Lovely Daughter"
October 15 – "I Talk to the Trees"
October 16 – "Zip-a-Dee-Doo-Dah"
October 17 – "He's Got the Whole World"
October 18 – "Bohemian Rhapsody"
October 19 – "The Enchanted Garden"
October 20 – "The Music of the Night"
October 21 – "You're My Home"
October 22 – "All I Ask of You"