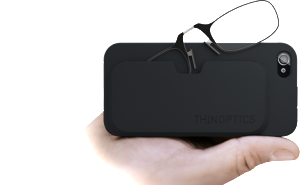 I appeared on KIVI-TV Good Morning Idaho to show five new products that can make your life easier. Who knew you could carry reading glasses on your cell phone?
ThinOPTICS is the revolutionary stem-less reading glasses that fit inside your phone case. The ThinOPTICS team tested over 200 prototypes on over 800 users to create innovative reading glasses that are flexible, mobile, and functional for everything from reading text messages to perusing the newspaper. The glasses, which are made with optical-grade polycarbonate and bullet-proof glass, come in thin cases that fit both Apple and Samsung phones as well as a Universal Pod that can fit in any pocket or suitcase. I have two: one on my cell phone and another on my Ipad. The glasses weigh less than a nickel and come in three strengths for users with varying needs: +1.50, +2.00 and +2.50. The price for the universal pod is $24.95 and phone cases with reading glasses are $38.95. Available for purchase on www.thinoptics.com.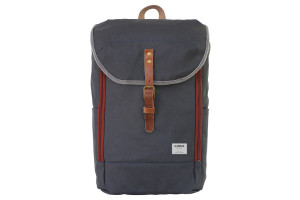 The Hampton Ruc Sac by Linus Bike is made from coated 16oz canvas with leather trims. The Hampton Ruc Sac has the looks and utility to be taken anywhere (from yoga class to a swift stroll in the park). Interior pockets for keeping the little stuff organized and best of all the face zips up for easy packing and unpacking. I like it because things get lost in a regular backpack, but this one opens like a suitcase for easy retrieval. The price: $129, and it's available for purchase on www.linusbike.com.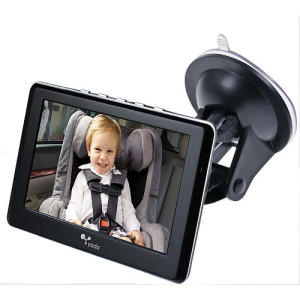 The Tiny Traveler™ from Yada is a camera for your car that allows you to glance at baby, kids and pets without turning around and taking your eyes off the road. I like it for my grandchildren so I don't need to turn my head to look back while I'm at the wheel. The package includes a 3.5" monitor, a camera and two different camera mounts (rear window and head rest), ensuring that parents can view baby whether he is rear-facing or forward-facing. The included 3.5" monitor that parents attach above the dashboard of the car is full color, has a 45 degree viewing angle and has night vision. The Tiny Traveler™ is powered through the 12 volt charger already in the car, so parents won't have to worry about the camera dying when they need it most. The price is $149.99, and it's available for purchase on www.babiesrus.com.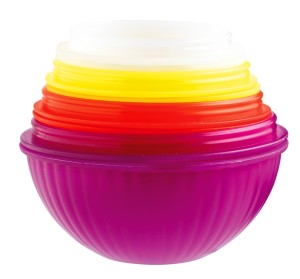 Mastrad's Veggie Savers allow you to keep your cut fruits and vegetables fresher longer with the airtight lids, and you won't waste expensive plastic baggies. Leftover garlic, lemon, onion and tomatoes can now stay fresh longer, so there is no more wasting food. Airtight lids help keep your refrigerator odor-free, and they are stackable for easy storage. The price is $15.99, and the set is available for purchase on www.shopmastrad.com.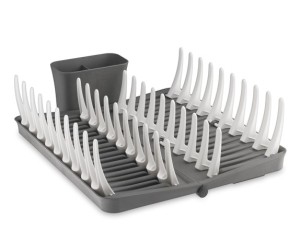 The Smart Rack from Full Circle is a collapsible dish rack that not only folds flat for easy storage but it can also be adjusted to fit any configuration of dishes, from a stack of oversized dinner plates to a collection of teeny tiny espresso cups. It's foldable and removable tines give you flexibility for drying odd shaped bowls, pots & pans or glasses, and the silicone stopper keeps water from running out of rack until you are ready to drain. It's made from eco-friendly materials including plastic, wood fiber and silicone. The price is $29.99, and it's available for purchase at Williams-Sonoma and Bed Bath and Beyond or www.fullcirclehome.com.
Disclaimer: I was compensated for promoting these new products on television and through my website.