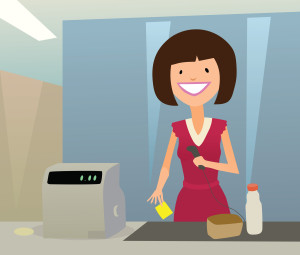 I chat with cashiers, visit with bank tellers, and linger at the Farmer's Market to talk with the friendly folks who barter their goods for my cash. For me, the exchange of serious business is better with real human interaction.
Growing up in a small town, I knew every checker and cashier at the local businesses. We would greet each other as long-time friends, discuss the pending potato crops, shake our heads and mutter about the civic elections, wonder about Widow Gibb's bursitis, and compliment babies, hair-dos, and outfits. We knew each other's families, the good and the bad, and liked each other anyway.
Then I moved to the city. The stores were bigger, the lines were longer, and no one cared that my baby was the cutest one ever to sit in a grocery cart. I still attempted to visit, but with mixed results. In big business, time is money, so there was limited conversation as customers moved through the lines. The bananas were fresher, the selection of meats was more abundant, but the experience was sterile.
Several years ago, my neighborhood grocery store installed two rows of self-service check-out registers. This technology eliminated the need to wait in line and was convenient for customers buying a few items. I fumbled several times to find the bar code, scan the item, and place it in the appropriate bag before somehow causing the machine to break and stop working. A dutiful employee would saunter over, insert her magic code, and the machine would work again. There was no verbal communication.
Yesterday I returned to the store and discovered all the self-service registers had been removed. I talked with the cashier as she rang up my groceries and explained the situation. She said there were several reasons for the return to cashiers.
"We added three jobs for cashiers," she said. "And the store reduced theft. The cameras revealed that too many people were taking items they didn't pay for and slipping them into the bags. Also, our customers missed talking with cashiers."
We chatted as she rang up my groceries and a delightful young woman with special needs placed the bags into my cart. The checker noted my selection of chicken, fresh mozzarella, green peppers, onions, and garlic.
"Looks like you're making a special meal," she said.
I explained I was creating my favorite chicken parmesan dinner for some guests. She nodded with approval, handed me the receipt, and said to have a nice day. The automated machines never cared about the groceries I bought or the meals I would prepare. I exchanged smiles with the cashier and bag girl, and in less than a minute we all felt better.
I'll return to that store to purchase most of my groceries. I have friends there.