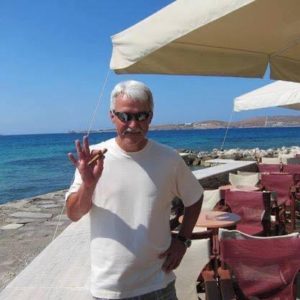 Studley and I got married on the Greek island of Paros. To plan for the event, I tried to copy the wedding scene from the movie "Mamma Mia!" but we didn't want to sing to each other on a narrow, windy ledge overlooking the sea. He can't sing, and I can't swim.
We chose a safe but picturesque chapel beside the Mediterranean Sea. After our ancient Greek wedding, we enjoyed a week on Paros. One day we took the bus to Noussa, a dusty old fishing village on the far side of the island. The travel guide had warned of primitive conditions, so we weren't shocked when we noticed a group of fishermen casually talking to each other as they urinated off the public dock into the water.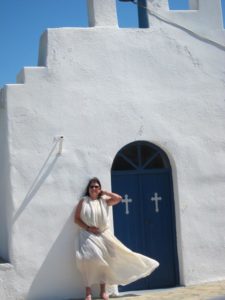 Their catch of the day hung from wooden racks: flat silver fish with sharp teeth, round black fish with white eyes, squid with wispy tendrils of upended suction cups. Water lapped around edges of the creaking wooden docks as we maneuvered around the pier.
We walked through the narrow maze of rugged stone streets past whitewashed buildings, tiny shops, lazy cats sleeping in the sun, and window boxes laden with colorful flowers. The aromas of incense, tobacco, and wild roses perfumed the air. We stopped at a sidewalk cafe near the ocean and ordered sharp cheese, crusty bread with olive oil, and tepid beer. Hand gestures were our method of communication.
When traveling, I try to locate water closets (bathrooms) with the same zeal that I search for ancient castles and new wine bars. Noussa was becoming a bit of a challenge, and by late afternoon, I regretted drinking the second beer. We entered a small grocery store tended by a matronly, black-toothed woman.
"Toualéta?" I asked, using the appropriate word from my Greek phrase book. The woman shook her head, apparently not understanding.
"Baño?" I implored, holding both palms up. No response.
Finally, with a bit of urgency, I showed my travel packet of toilet paper and plunked down a euro coin on the wooden counter. Currency remained the universal form of communication.
"Ah," she replied, nodding her head. She took a broken pencil and drew a simple map on the back of my notebook. She had a mischievous twinkle in her dark eyes.
"Evcharisto! Thank you!" I said and hurried to follow the map like an eager explorer with directions to the Holy Grail. I found the public water closet, a tiled room with two foot rests and a hole in the ground. I'd seen similar accommodations on a previous journey through India and knew strong thigh muscles were necessary. At least this was an improvement over the practice of the Ancient Greeks who used a toilet in public as a sign of nobility. There wasn't a sink, so I washed my hand with the wipes I carry – almost as necessary as my passport.
Later, we hiked back to the bus stop and passed the woman's shop. I waved to her.
"Good-bye," she called in English. "Have a nice evening."
We laughed at her apparent knowledge of the English language. We learned to never underestimate a foreign shopkeeper with a twinkle in her eye and an eagerness to accept a valuable euro coin. She must be a distant relative.
#amwriting, #Greece, #euro, #restroom, #travel,