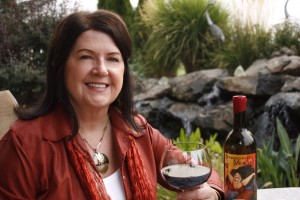 A new study recently published in the Journal of Physiology reports that drinking a glass of red wine can equate to an hour of exercise, so I can only assume that two glasses equal two hours at the gym. After consuming an entire bottle, I should be ready to power-lift a Buick, jump over tall buildings, and grow a beard.
Researchers discovered that a natural compound called resveratrol found in red wine could enhance exercise training and performance. The principal investigator for the study notes that resveratrol can also offer the same benefits achieved through working out. To commemorate this important advancement in medical science, I raise the appropriate wide-bowled glass, swirl, sniff, taste, and toast the good news. The celebration pairs nicely with some Brie and crackers.
I've already sent a nice thank you note to the research team responsible for helping me choose between sweating at the gym next to fat-free females or lounging on my patio with a bold Cabernet. I'm still trying to lose the baby fat that hung around after my last child was born. I hope there's no time limit on that excuse because my son now is grown and has kids of his own.
I've honestly tried to exercise and have several colorful outfits, coordinated shoes, and a dusty collection of DVDs, resistance bands, and hand weights. Alas, my ambitious attempts to get fabulously fit always fail from being too feisty. Once I tripped over a wayward barbell and broke my foot, and another time I leaped into a speed skater contortion, momentarily defying gravity with the grace of a bounding gazelle but then landed with the impact of a drunk hippopotamus. As a result, I tore the meniscus in my knee and cracked a bone. I concluded that the benefits of sipping wine far outweighed the potential hazards associated with the jungle of the gym. From now on, my only six-pack will come with bottles.
Common sense and medical research tell me to curb the enthusiasm, continue doing regular moderate exercises, and celebrate pain-free with a glass or two of red wine. Please join me as we put down the jump rope and skip to the wine cabinet. Do it for your health, and then daydream that some dedicated scientist now is studying the benefits of warm pie with ice cream. Cheers!