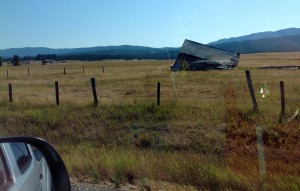 Studley and I escaped for a few days and drove to the resort town of McCall, Idaho. While driving on the narrow, winding mountain road, we anticipated summer traffic and took our place in line behind campers, a tour bus, logging trucks, and pickup trucks pulling recreational vehicles and/or boats and commercial rafts. We were among the crowds wanting to get away from the crowds.
We didn't have cell phone service during the two-hour drive, so I couldn't check email messages or log on the Internet. As a result of such a dire situation, we had no choice but to slow down and enjoy the scenery. Here is what we were forced to observe:
Two whitetail deer stood beside the road and calmly watched as we drove past. The road followed the Payette River as it changed from whitewater rapids tumbling through a steep canyon to a wide pool in a mountain meadow. Eagles, osprey, and huge hawks circled overhead in a pristine blue sky and we drove through towering timber that fringed a forest covering thousands of acres of rugged wilderness. That's what we had to endure.
After an hour we passed a cabin in a meadow outside of Cascade. I once lived in McCall so I've been driving this road regularly for 40 years and have watched as this pioneer structure slowly deteriorated. I took a photo and was pleased that the quick shot captured the sagging cabin and the mirror on our vehicle. The photo portrays images of life from the past and of those going forward.
We agreed that life in the slow lane is necessary to refocus our direction. The hectic pace of daily living can rob us of the free splendor available just beyond the window. With a slower pace, maybe I can become more patient with the slow motorhome in front of us if I imagine all the fun the family can have in the mountains. Maybe I will appreciate the truck driver who uses his skill to move the logs down the steep mountain pass. Maybe I can survive without Internet service for a few hours. Maybe.
I can relate to the vision of the old cabin. My back hurts from loading the car, my legs ache after sitting for a few hours, and I'm tired. At least my eyes work – with prescription lenses – so I can see beyond the slow obstacles in the road, look through the dusty windows, and notice what's real. Life in the slow lane is the fastest way to escape and breathe the fresh mountain air. In this measured pace, I find peace on the journey.