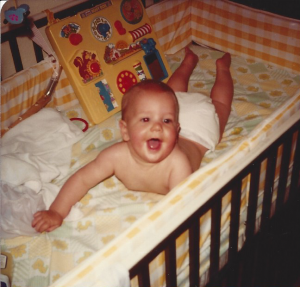 My children grew up to become happy, productive adults without an arrest record or implanted horns and they still talk to me, so I'm qualified to offer some advice to new parents of healthy children. Here are a few easy suggestions that are all legal:
Your children should:
Explore and get dirty.
Climb and fall out of trees.
Go on scavenger hunts.
Make play dough.
Strike out and lose a few games.
Read books.
Wonder.
Be kind to others.
See you laugh, love, and cry.
Need your touch.
Your children should not:
Wear designer baby clothes.
Watch TV or play video games more than an hour a day.
Refuse to try healthy foods.
Swear, hit, bite, or worship the devil.
Be afraid of you.
Cry alone.
Expect you to solve every problem.
Doubt your love.
Scream in a restaurant, unless it's on fire.
Reject your touch.
(Caveat: Of course, these suggestions will be adapted for children with special needs.)
I used to feed my little ones with a spoon shaped like an airplane. Now they open their mouths every time they hear a plane.
But we had great fun during mealtime. I'd strap their wiggly body into the highchair and begin the mommy dance of getting most of the food into their body. The airplane spoon worked best, and we had great travel adventures right there in the kitchen. "Here it comes, (airplane noises), open up for a magical delivery!"
The animation worked until I tried to sneak in blended peas or stewed prunes. Then even the most daring and high-diving airplane spoon couldn't open the steel mouth of refusal. (Really, can you blame them?) But this pilot was no dummy. Sprinkle a few berries on top of the concoction, and that fortress opened faster than the mouse ran up the clock.
But I have a problem with the modern way of feeding the cherubs. What's up with wee toddlers sucking food out of pouches? Now clever marketers and busy parents have discovered food pouches that offer quick and easy ways to feed babies. Slap on an "organic" label, and you can dash out the door guilt-free. Just don't forget to take the baby. I'll admit the convenience is nice, and I've used the pouches with my grandchildren, but sparingly.
Experts with long titles now question the overuse of food pouches. They point to complications with tooth decay, proper oral development, and socialization issues. I don't need a professional title to see the biggest problem. A special experience is lost when a toddler is strapped into a back car seat sucking food from a bag while Mommy is swearing as she maneuvers through traffic. I say bring back the airplane spoon, sit down face to face, and have some fun. Delightful toddlers have a way of turning into aloof teenagers, so enjoy a captive audience while you can.
Because I'm older, experienced, and cheerfully sarcastic, I chuckle at all the necessary contraptions for young parents. They can choose from a vast assortment of baby monitors with live-streaming videos, DVDs that instruct clueless parents how to introduce their children to colors and numbers, strollers bigger than a Volkswagen, and the ever-popular meditation music that encourages babies to get in touch with inner feelings. I always assumed a smiling baby was happy and a crying baby was hungry, tired, or needed to be changed. Silly me.
When my children were babies, disposable diapers were too expensive, so the only choice was the one-size-fits-all cloth. And pinning them on a wiggly baby often resulted in accidental stabbings, but only to my clumsy thumbs. I developed the skills of an intricate, highly-skilled technician as I made goo-goo faces to distract the little cherub and secured the bulky diaper. Soiled diapers were dunked in the toilet and stored in a hamper until washed and reused. There was no alternative other than to allow the brood to run around naked in a pen that could be washed with a high-pressure hose. That option did cross my mind a few times. Now with disposables, it's just strap on a synthetic polymer and fibrous pad made from wood pulp and absorbent chemicals and toss the used ones in the garbage to fester for 500 years.
I'm also humored by the zealous endorsement of making homemade baby food as new parents seriously learn how to take regular food and smash it into mush to make it easier to feed their babies. I suspect this technique was used by all the generations that survived before 1927 when Mrs. Dan Gerber, the wife of a Michigan canning company owner, asked her husband for help in straining peas for their infant daughter. Now Gerber sells 190 products in eighty countries. In 2007, Gerber was sold to Nestlé for $5.5 billion. Well played, Mrs. Gerber.
My last tidbit of advice to new parents is to close the books, turn off the tutorials, ignore parents who claim to have perfect children, and take your bundle of joy into your arms. Sing some songs, gently touch those sweet cheeks, and profess your unconditional love. That's all they need. Well, they also need food, clothing, and shelter for 18 years, but you already knew that. Oh, there are two more things. They need to laugh and be silly. Every day.