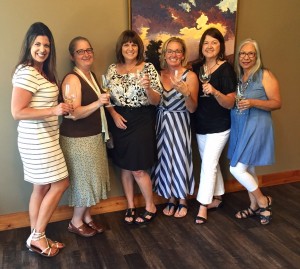 The Midlife Happy Hour Club is a gregarious group of tenacious women who meet sporadically to celebrate festive occasions such as birthdays, a cure for irritable bowel syndrome, a Hollywood movie with a leading actress over 40, or the fact that a sales clerk actually noticed us. We gather for Happy Hour, the best time of our lives. We aren't ready for closing time but prepared to celebrate a time of life when women finally get to sit down, raise a glass to toast the day, and boldly declare, "I'm relevant, resilient, and ready for another round!"
Charter Members of the local Midlife Happy Hour Club recently met at Telaya Winery in Garden City, Idaho to select the label for a special red wine to be introduced in October. The "Midlife Happy Hour" blend features choice grapes from the Snake River Valley and will be paired with the new book of the same name. The official premiere party is Thursday, October 13 at the winery. The front label for the bottle features the front cover of the book, and the back label contains information from Telaya Winery.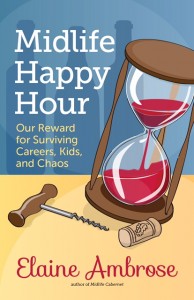 Midlife Happy Hour is the sequel to Midlife Cabernet, the 2014 book that reached #1 bestseller status in the humor category on Amazon.com. Publishers Weekly reviewed the book as "laugh-out-loud funny," and Foreword Reviews wrote that the book was "an Erma Bombeckesque argument for joy." The book won the Silver Medal for Humor from the Independent Book Publishers Book Award program.
Midlife Happy Hour describes a Midlife Happy Hour Club of six women who refuse to fade away as insignificant relics. We are ready to party because the kids are (mostly) grown, the menstrual periods stopped, and we survived four decades of dealing with corporate clowns. We know that it's more fun to celebrate than to stab someone with a fork and deal with the messy court case and jail time. Good friends, laughter, and a bottle of wine are what every woman needs while adjusting to empty nests and full schedules, hyperactive adult children and ailing parents, and loose skin and tight budgets. We no longer believe the lie that we could do it all: Bring home the bacon, fry it in a designer pan, raise delightful children, and strut in stilettos with perky boobs bobbing to please our man. That myth contains more baloney that a cheap sandwich in a truck stop deli.
There are more than 40 million middle-aged women in the United States, and a significant number of us are ready for a break after decades of working various jobs, managing (or imagining) lovers, and solving one crisis after another. Happy hour allows women to enjoy the rewards of living long enough to see the kids grow up and move out, the mortgage decrease, and the bad boss get indicted. We did our time, and now the youngsters can take over and sashay through the doors that we struggled to open for them.
After all we've endured, we want to laugh. Now.
Midlife Happy Hour will be published by Brown Books Publishing Group in Dallas, Texas, www.BrownBooks.com. The book is available for pre-order on Amazon.com. Follow this link: Midlife Happy Hour.