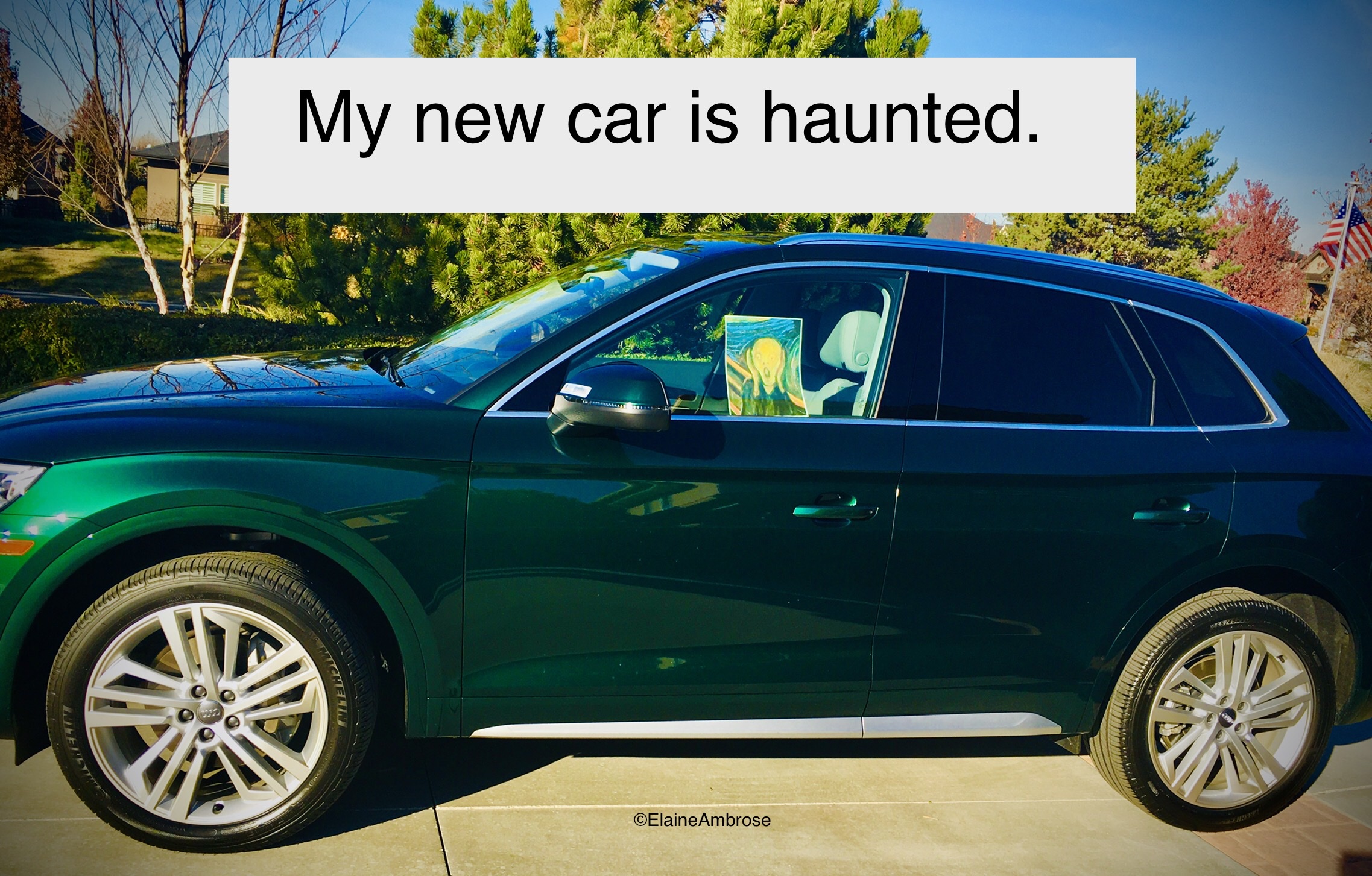 Remember the olden days when you jumped into your car, turned a key, and drove away? Those were good times. Now I drive a haunted car controlled by mischievous gremlins, strange voices, and nefarious computerized systems designed to destroy my delicate balance of sanity.
The car caper began when I cheated on my long-time dealer. During the past twenty years, I've purchased a dozen vehicles from the same dealership in Boise. I drove a Lexus SUV because it was dependable and I needed extra room to haul books, my mother's wheelchair, car seats for the grandbabes, and numerous loads of household goods while moving eight times and also moving my mother eight times. I usually traded to a newer model every few years; however, the design of recent Lexus SUV models began to resemble an 18-wheel truck, were too wide to park, and had bad gas mileage.
I felt guilty looking around at other vehicles, but then I saw a splendid, emerald-green Audi Q5. The SUV was small, so it would be easier to park and could get better gas mileage. It looked sporty and featured a fancy interior with a huge skylight. I researched details and the vehicles rated high for safety, performance, and value. I had sold some property, so with my trade-in I could pay cash. Because I paid the balance with a check, the process took less than 30 minutes. Financing a car at the dealership can take hours, involve a stack of documents, and take years off your life. Being a woman without a male escort adds an entire new level of scrutiny.
I drove away, enjoying the toxic chemical smell of a new car. The problems started when I stopped at the grocery store. I couldn't figure out how to lock the car.
Here are a few of the frustrating issues I've encountered with the new car:
I couldn't lock the door so I had to search the 388-page owner's manual for instructions. I learned how to touch the outside of the door handle but not put my fingers inside the handle. This design feature should be changed.
The automatic car wash is a nightmare. I tried to put the gear into Neutral but the "S-tronic dual-clutch transmission" went into Park instead of Neutral and the car wash track tossed the tires out of alignment. This happened several times, and the patient attendant finally learned to shut down the line whenever he saw me coming.
I purchased a car wash membership but the sticker on the windshield wouldn't work because a speed limit display projected on the windshield interfered with the electronic eye at the car wash. I needed to watch an online tutorial to learn how to turn off the display. The electronic eye still doesn't work.
During the car wash, the seat belt suddenly tightens when gremlins in the engine sense the washing equipment getting closer. The first time this happened, I thought someone in the back seat was trying to grab me. I may have screamed, fearing my dead body would be discovered when the car was propelled out of the dryer.
Mysterious voices and warning bells occur at random times. The "Audi pre-sense front" is a safety feature that soon became an annoying nag. The car's lecturing voice tells me if my cell phone is still plugged in when I make a quick exit to get the mail. Bells ring if the car thinks I'm too close to a car in front of me. If I slow down, another car will cut in front of me, and bells go off again. Warning lights flash if I go over the speed limit when I pass a car on the freeway. Bright red danger signs appear for no reason and go away before I can react. They are mocking me.
The navigation system requires a college course to understand. I've watched several online tutorials, but I still use my cell phone for directions to a new address.
The owner's manual was edited by 100 bored lawyers and contains multiple warnings. The serious text states to "NEVER drive when impaired by medications, alcohol, drugs, etc." Who knew? The manual also says "Do NOT drive when you are tired, under pressure or when you are stressed." The only thing that stresses me is this car.
Finally, I miss a V6 engine. Yes, the lighter 4-cyclinder Q5 gets better gas mileage, but the vehicle wobbles in a strong wind on the freeway. I have a bit of buyer's remorse, and I'm not impressed by the Audi dealership but I can't return to my old dealer. I suspect they've moved on, too, and I'm no longer welcomed in my favorite service department. I'll continue trying to learn the complicated mechanics of the new car, but I have fond memories of my first car: a 1973 Pontiac Firebird. I simply turned the key, popped in an 8-track cartridge, and traveled – stress-free – down the road.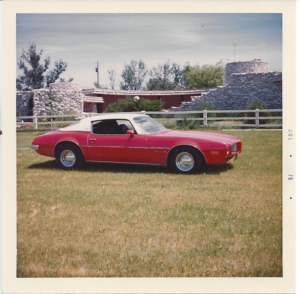 My first car – 1973 Pontiac Firebird