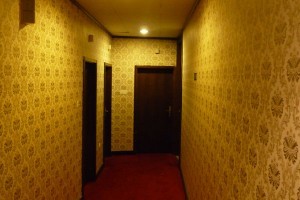 The Modern Hotel in Boise sponsored a micro-fiction writing contest inviting scary, hotel-based stories. The rules were to keep the word count below 390, include the image of a hotel hallway, and use this first line: "There had been an argument down the hall." Here is my entry.
Travel Companion
There had been an argument down the hall. The commotion woke me from a restless sleep, and I mumbled with irritation. Traveling alone on business is exhausting, and I always request a hotel room on a quiet floor away from elevators and rowdy travelers, but Room 782 did not comply with my expectations.
I heard men's voices, loud and vicious, and a heavy thump that indicated a man was thrown against the wall outside my room. Someone rattled the handle on my door, as if trying to come inside to escape the violence. I gasped for air. A deep voice snarled:
"Where's my money?"
"I don't know. I swear. Stop hitting me."
Wide awake, my mental checklist went on alert: I had locked the door, secured the chain, and my cell phone was on the nightstand. Through the darkness I could see the fuzzy numbers on the clock: 2:00 am. Where were my eyeglasses? I didn't remember.
The fight ended and I heard them move down the hall, enter another room, and slam the door. I reached for the phone to call the front desk and report the disturbance.
Suddenly I froze. Someone was in my bed.
I felt the sensation of another body lying next to me, but not touching me. I heard the measured, deep breathing and felt a slight movement, an adjustment of heavy weight.
Too terrified to scream or look, I tried to force my hand to keep moving toward the phone but I was paralyzed with fear. Sweat pooled on the back of my neck, and I opened my mouth to scream, but nothing came out.
Then he spoke.
"Just be quiet. I won't hurt you."
I kept my eyes closed but attempted to move away. I finally managed a sick scream.
He covered my mouth with huge dirty hands that smelled of sausages and onions. I bit a thumb and he yelped.
"Stupid woman," he growled. "Do you realize how many times I have saved your life?"
"What?"
"You travel alone all the time and I'm always there to protect you. You don't realize that I'm in bed with you in every room you have ever used."
Panting for breath, I jumped up and turned on the lamp.
The room was empty. There was an indentation in the bed.
©ElaineAmbrose