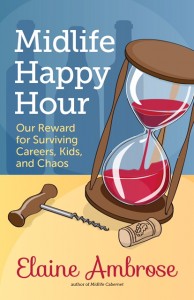 New Offering from Brown Books Says Midlife is Worth Living Out Loud
"Midlife Happy Hour: Our Reward for Surviving Careers, Kids, and Chaos" Set for Fall Release
DALLAS (May 3, 2016) – Brown Books Publishing Group has signed celebrated #1 best-selling author, syndicated blogger, and humorist Elaine Ambrose to publish her newest book, Midlife Happy Hour: Our Reward for Surviving Careers, Kids, and Chaos.
"Middle-aged women need to reinvent their lives and celebrate parties in the empty nest," Ambrose said. "They know if the glass is half empty, fill it fast and pass the cookies."
Midlife Happy Hour is a collection of humorous essays and anecdotes that is Ambrose's sequel to her #1 best-selling 2014 release of Midlife Cabernet touted by Publishers Weekly as "laugh-out-loud funny!"
With her Brown Books title, scheduled for October release, Ambrose boldly and hilariously pens her latest kiss-my-attitude book in order to share her irreverent advice. Readers will learn how to remain relevant when the world ignores them, why their children are cute but should grow up and move out, how to communicate with aging parents, and why it's never too late to enjoy a passionate love life, but only with proper lighting.
Working women will relate to her humorous tales of surviving various jobs while raising children, wiping toddler snot off her fashionable business suits, and competing as a funny female in a serious, male market. She grew up on a potato farm outside the village of Wendell, Idaho, and became the state's first female television news reporter, a manager in a Fortune 500 Corporation, and a magazine editor.
Ambrose received international acclaim when one of her humorous stories became one of the most-read posts in the history of The Huffington Post. Her viral essay was translated into six languages and published around the world. She has received multiple awards from the Independent Publisher Book Awards (IPPY) and ForeWord Magazine Book of the Year Awards.
Other books by Ambrose include The Magic Potato, a bilingual children's book that was approved for the statewide school curriculum. Her first collaboration was with New York Times bestselling author Joanne Kimes to write Menopause Sucks.
Ambrose delivers just the right recipe for laughter with Midlife Happy Hour.  Cheers to the readers who will laugh out loud!
For more information on Elaine Ambrose and Midlife Happy Hour, please visit: www.midlifehappyhour.com.
Media contact: Brian Briscoe, 972.248.9500, Brian.Briscoe@TheAgencyatBB.com
About Brown Books Publishing Group (BBPG)
Founded by Milli Brown in 1994, Brown Books Publishing Group is a full-service, independent publisher of high-quality books across all genres. Committed to producing award-winning books for authors who choose to retain the rights to their intellectual property, Brown Books publishes more than one hundred titles a year and has won numerous prestigious awards, including the Writer's Digest Grand Prize, Mom's Choice Award, Foreword Book of the Year, Gold Ink Award, Axiom Business Book Award and many more. Brown Books authors have appeared on programs and networks such as the "Today" show, Fox News, "Face the Nation," CNN and BBC News. They have been featured in publications such as USA Today, Publishers Weekly, and The New York Times. In addition, BBPG authors have been guests on NPR programming, including "The Diane Rehm Show," "Morning Edition" and "The Takeaway." To learn more, visit www.BrownBooks.com and www.BrownBooksKids.com and www.BrownChristianPress.com.
About The Agency at Brown Books (ABB)
The Agency at Brown Books is a full-service public relations, marketing and branding firm within a publishing house. As a subsidiary of Brown Books Publishing Group, The Agency is backed by 20 years of excellence and experience, and the one-of-a-kind, integrated platform is available to Brown Books' authors as well as to non-affiliated authors, established writers, entrepreneurs, CEOs and anyone seeking smarter strategies for building their business. For more information, visit www.TheAgencyAtBB.com.