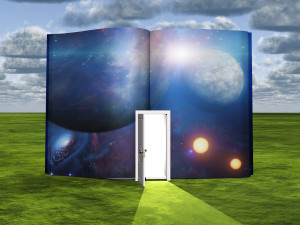 Recently I was playing with a gaggle of giggling granddaughters. We were telling stories, and they squealed with delight at each silly suggestion in our creative plot as "Once upon a time…." encouraged them to imagine without restriction.
"And then the princess turned into a beautiful butterfly."
"She waved her magic wand and poof! There was a purple horse with wings!"
"The little girl fell down a long tunnel and landed in a big meadow. She could understand what the animals were saying."
Of course, the pretend princesses always survived their adventures and the endings always were happy, except for the conclusion in the Fable of the Farting Princess, but by then it was time to take a break. Such is storytelling with children.
Every day, we are surrounded by potential stories. Those of us who can still remember the 1960s can't forget the lyrics of Simon and Garfunkel's song "America" as the couple turns ordinary situations into imaginary stories:
"Laughing on the bus, playing games with the faces.
She said the man in the gabardine suit was a spy.
I said, "Be careful his bowtie is really a camera."
If you need inspiration to write, you should go sit in the park. Observe a happy family playing and laughing, and then allow your imagination to wander. Who is that dark stranger slowly driving around the park? Why is the woman yelling into her cell phone? Did you see the lonely custodian laughing as he went down the slide? Is the little boy really talking to a squirrel?
You can find story ideas while waiting at stop lights. The obnoxious guys in the noisy car next to you are certain to be smuggling something illegal. The old woman ahead of you must be on her way to her best friend's funeral. That's why she's driving so slowly. Her friend's name is Erma, and they used to process jars of pickles together in Erma's farmhouse kitchen. The old woman craves a fresh tomato.
I also use newspaper headlines to create short stories. The Idahoan Who Speaks for U.S. Sheep Industry." So, what do the sheep have her say? Do they have a meeting in the pasture and discuss issues over bowls of fresh grass and pitchers of water from the canal? N.Y. Pet Cemeteries Told to Stop Taking in Humans. Will Fifi really care? The old dog's been dead for 20 years. And, what if those really aren't Fifi's ashes?
Every day presents an adventure waiting to be told. The real ending can't be controlled, but with enough creativity and imagination, writers can add some festive, mysterious, tragic, inspirational, and amazing elements to make the journey less mundane. After all, it's what we do. We are storytellers.
(Featured on NanaHood.com 10/1/2015)