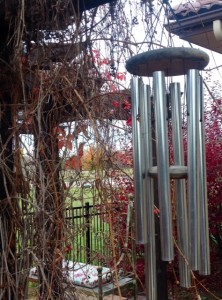 In the silent expectation of dawn, just before the first slice of silver reveals the horizon of a new day, a slight breeze moves through the pine trees in my yard. The brief rustle of branches releases a faint smell of long-past adventures in summer mountains and stirs the chimes that hang in the arbor. I look upward and smile at the memory of my mother.
Her morning ritual remained the same for twenty years. She woke early, and slowly walked down the lane to retrieve the newspaper. Her breath came in puffs as she tugged her sweater closer against the chill and gazed at the stars before they faded behind the emerging sunlight. Back inside, she turned on her radio, sometimes she listened to the farm report or else to gentle sounds from the 1940s. She fixed some toast, sipped coffee, read the paper. She did this every morning by herself.
Widowed for two decades, she forgot how it sounded to be greeted every day, to feel the touch of someone else in the house, to hear her husband ask for more coffee. Even though her schedule was full of volunteer activities and various appointments, she never got used to the loneliness. Her regular companions were the ticking clock over the mantel, the cooing mourning doves outside the window, and the pleasant voice on the radio telling her to have a nice day.
I finally convinced her to move into an assisted living facility 100 miles away from her home but closer to my grown children and me. She had endured too many serious falls, too many minor car accidents, and a growing number of health issues. On the last morning before the move, she lingered outside on her morning walk and noticed a warm breeze meandering through the trees, as if to say farewell. She nodded and went inside.
Years later, after enjoying the company of others in the facility and regularly seeing her grandchildren, her mind and body began to fail. Confined to a wheelchair and lost in dementia, she preferred to stay in her tiny room and listen to her spiritual music.  Finally, she knew it was time to go and she stopped eating. Not even congenial staff or patient family members could convince her to swallow a single bite of applesauce. She died in her bed on a quiet autumn morning as Tennessee Ernie Ford promised there would be peace in the valley. Outside her window, a sudden wind tossed the tree limbs, and the leaves floated to the ground.
A week later, I woke earlier than usual, dressed, and stepped outside. The stars were still bright as I walked to get the newspaper. I turned to go back and a fresh gust of wind tickled the chimes. "Good morning, Mom," I said, beginning my own ritual of greeting her in the morning. "Let's have a nice day."