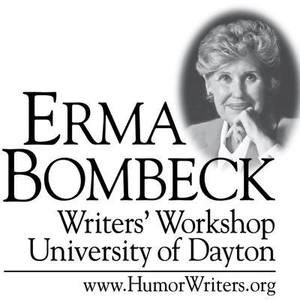 I am thrilled to be included with the distinguished faculty for the 2016 Erma Bombeck Writers' Workshop scheduled for March 31-April 2, 2016 in Dayton, Ohio.
Other speakers include Jenny Lawson, New York Times bestselling author and author of "The Bloggess," NPR humorist Roy Blount Jr, bestsellling novelist Amy Ephron, feminist scholar and humor writer Gina Barreca, bestselling humor writer Judy Carter, and stand-up comedian Leighann Lord.
Erma Bombeck's syndicated column, "At Wit's End," appeared in more than 900 newspapers. She wrote 12 books, nine of which made The New York Times' Bestsellers List. Bombeck also appeared regularly ABC-TV's Good Morning America for 11 years. She was still writing her column for Universal Press Syndicate and developing a new book for HarperCollins Publishers when she died from complications of a kidney transplant on April 22, 1996.
Bombeck attended the University of Dayton and credits the university for launching her writing career. The University Alumni Association co-sponsors the biennual Erma Bombeck Writers' Workshop, drawing hundreds of aspiring and professional humor and human interest writers from across the country.
Registration for the 2016 workshop opens at noon on December 1. Spaces are limited, and the last conference sold out within 12 hours.

2016 Bombeck workshop faculty
Elaine Ambrose
Elaine Ambrose is an author, syndicated blogger and humorist from Eagle, Idaho, who writes for The Huffington Post, BlogHer, HumorOutcasts and Midlife Boulevard. Her 2014 book, Midlife Cabernet: Life, Love and Laughter After 50, won two national humor awards. Publishers Weekly called the book "laugh-out-loud funny." In all, she has authored or co-authored 10 books, including Menopause Sucks, a national bestseller that helps middle-aged women learn and laugh instead of break something. In 2003, she founded Mill Park Publishing, which self-publishes books and offers women's writing retreats.
Workshops
Write Funny, Now! (one time only)
Elaine Ambrose
Experience the serious work of humor writing. In this interactive session geared to beginning writers, participants will learn how to use various types of humor to deliver humorous lines and grab readers. Participants will read a sampling of Erma Bombeck's columns, discuss why certain lines are hilarious, share their own on-the-spot work and interact with others to improve their writing.
Turn Your Blog Into a Book (one time only)
Elaine Ambrose
This session focuses on the nuts and bolts of creating a self-published book from your best blogs. You will learn how to compile and format chapters, hire professional designers to create the cover and layout, hire editors to read your manuscript, obtain reviews for the cover, purchase an ISBN number and bar code, and submit to print sources such as CreateSpace to produce a paperback and e-book for mass distribution. Targeted to experienced writers who have written at least 100 blogs or 10,000 words of a manuscript.