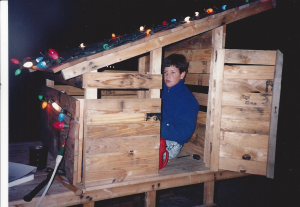 Two decades ago, before the popularity and distraction of video games, cell phones, and personal computers, children played outside. They rode bikes, threw balls to each other in the park, scouted for frogs in the ditch, and climbed trees. And they built forts.
Our family moved into a new subdivision when my son was in third grade. The house backed up to a row of empty lots, a little boy's adventure land. The neighbors next door had two little boys, and my son joined them in playing in the dirt. The developer was building new homes nearby, so the boys hauled unneeded scrap lumber over to the lot behind our house and built a fort. The fathers helped with the heavy lifting, but the boys did most of the work.
In December, they lined the fort with lights and strung an extension cord to the house. The local newspaper mentioned the fort in its list of Christmas light displays to see. They spent countless hours in the fort, telling stories, making little boy plans, and just being in their own private world. Of course, no adults were allowed, unless we were bringing snacks.
The structure weathered the winter, and the boys continued to play inside the fort. One day my son came home from school and went outside to play. He soon came running inside and yelled at me to come with him. The fort had been torn down, left in a pile of broken boards. Nearby the developer's machinery rumbled over the ground, flattening everything in its path. The boys were heartbroken, but we had a discussion about personal property. We didn't own the land, so the developer had the right to prepare the ground and build a house. It didn't occur to him to move the structure to our yard.
My son grew up, married, and had children of his own. Last year he built them a fort in the tree in his back yard. His daughters played and laughed in the tree house, and adults could come near if we brought snacks. Maybe this year, in the spirit of the season and to continue the tradition, they'll add lights on the fort. And if we're good and on our best behavior, maybe they'll allow the adults to come inside.