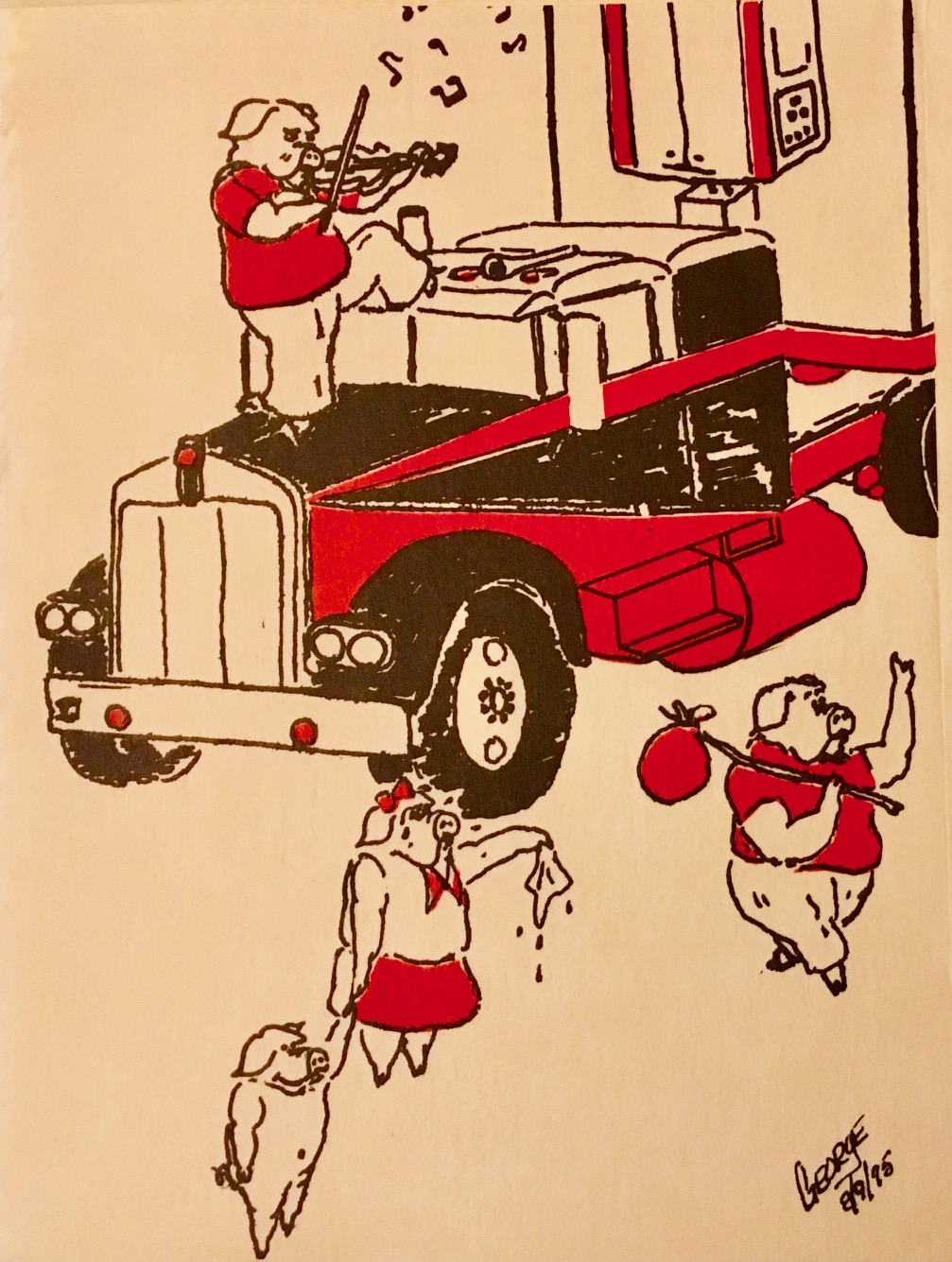 My brother George Ambrose died yesterday. His health had been declining, so my husband Ken and I drove 130 miles to Twin Falls, Idaho, to meet him at a restaurant overlooking the Snake River Canyon; a fixture from our childhood. He told funny stories, we drank wine, and we helped him to his pickup. He drove home and died a few hours later.
My usual response to pain is to crack jokes. After I learned of his passing, I asked, "But he ordered the house wine!"
He could have ordered top shelf anything, but he wasn't like that. As much as we were similar in our ability to tell stories, sing, laugh, and savor good food, we were different because he was a humble, quiet man. My obnoxious public antics often embarrassed him, but we remained close in spirit if not in proximity.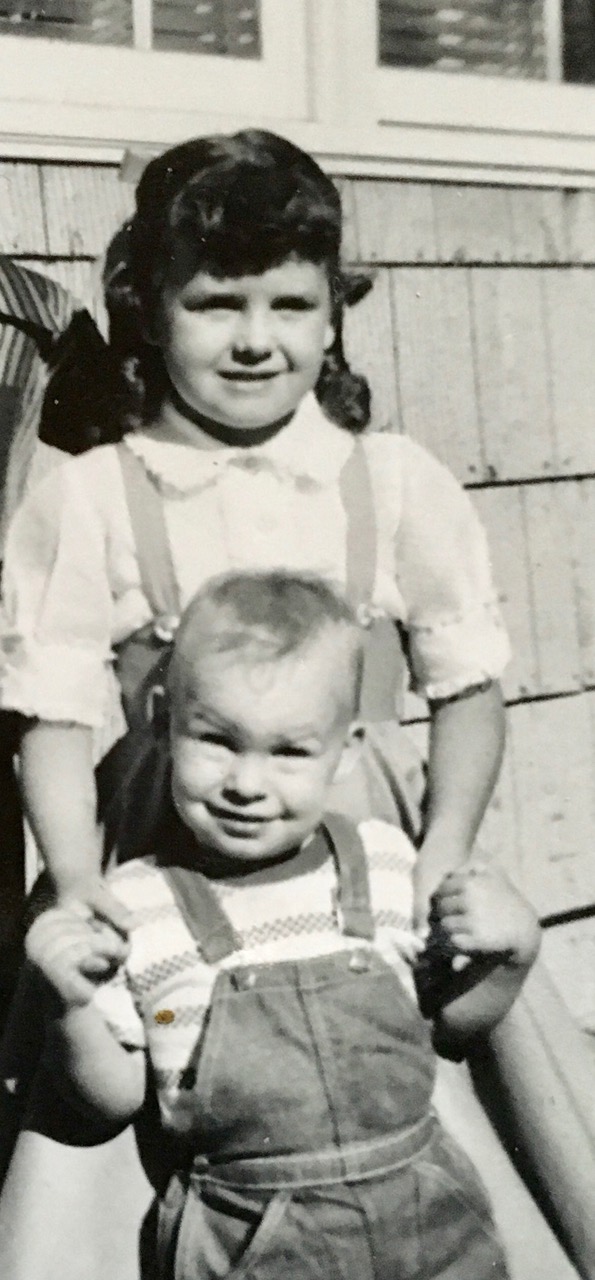 Because he can't stop me now, I'm going to write about him so others can appreciate his goodness. He was a talented artist. The drawing above was done when my older brother left home and shows my mother sobbing as she holds Little George's hand while he's grinning. My father plays a fiddle on top of one of his 18-wheel trucks. At the time, my father also owned about 6,000 hogs, hence the use of pigs in the artwork. (I'm not in the picture, but that's for the memoir.)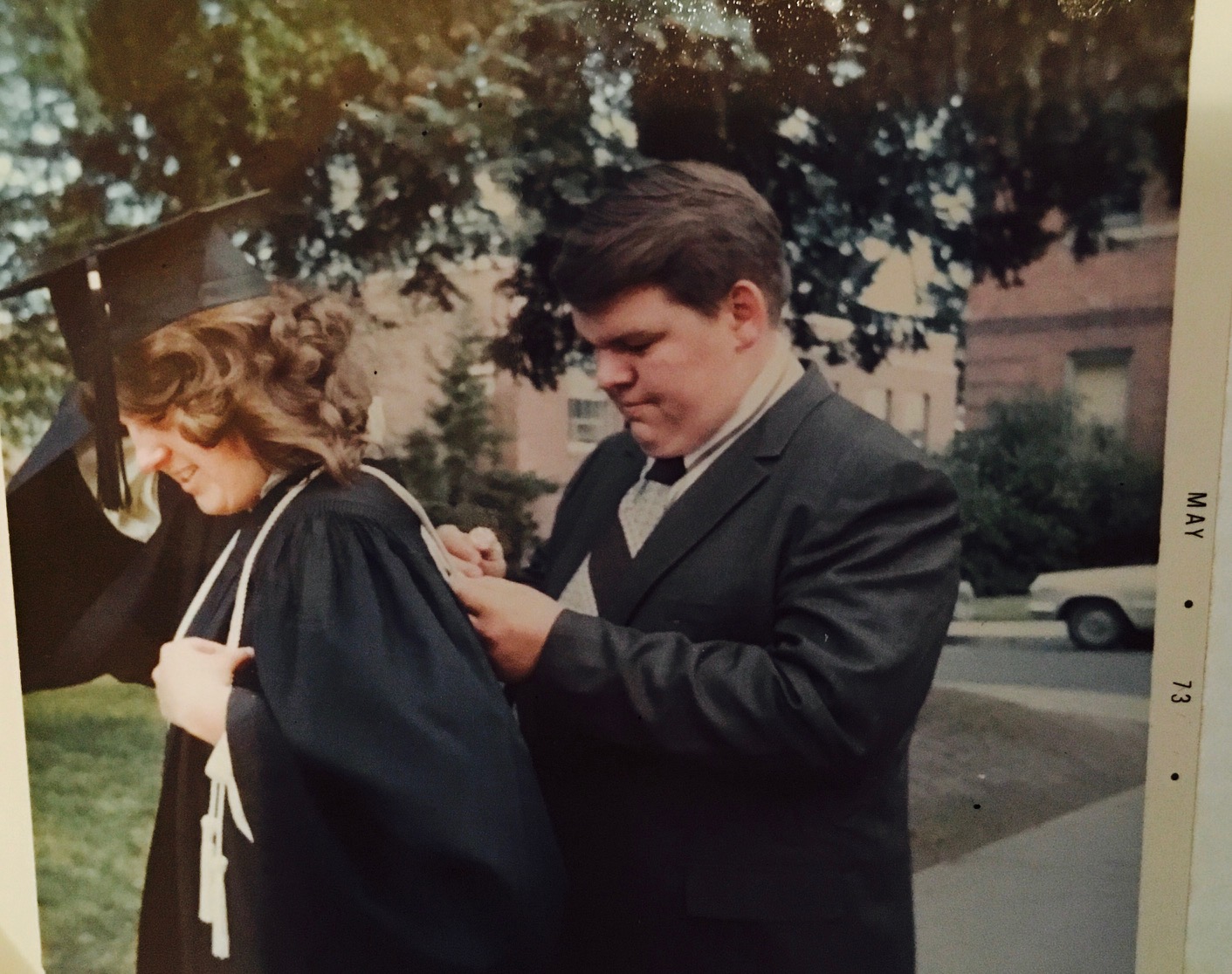 George wasn't encouraged to pursue his love of art because he was needed to help run the trucking company after he graduated from college. George also loved to sing; another passion that was discounted in the family work ethic requirements. He and I both were members of the Vandaleer Concert Choir at the University of Idaho. The Vandaleers only traveled on two tours outside the United States. I went with the choir to Europe, and five years later he traveled with the choir when it toured South America. I have a favorite photo that shows him adjusting my academic chords before graduation. He threatened to strangle me if I didn't hold still.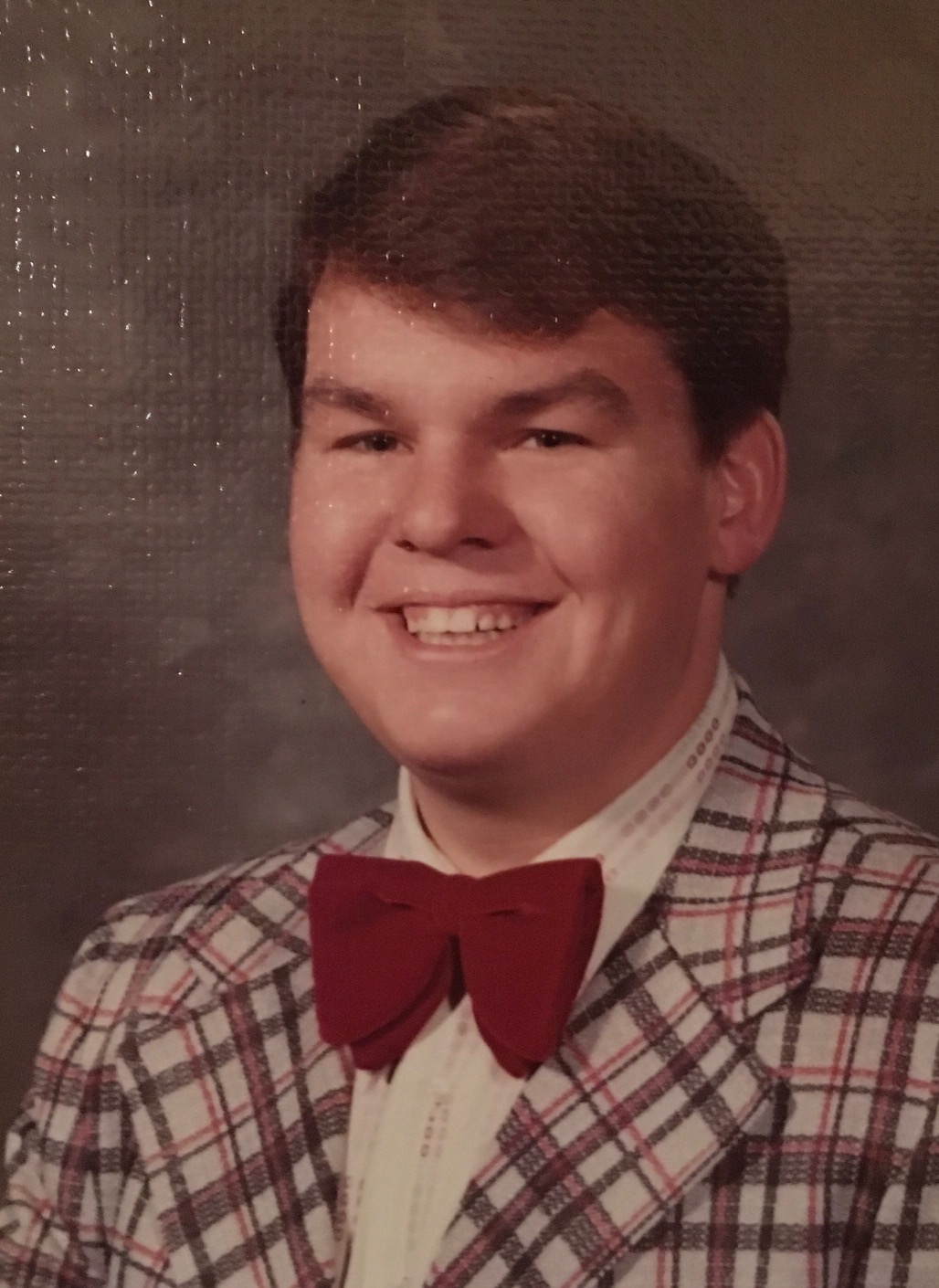 Another memory is when were performed in the talent show at school. I was in high school and he was in junior high. I performed an original poem titled, "My Mommy Spanked My Bottom." He did a reading of "The Cremation of Sam McGee" by Robert Service. We won First and Second Place, which caused criticism from the town folk who thought we hogged the awards. The Robert Service poem continues to be popular in folklore and poetry. My poem, not so much.
One fun adventure with George and Marti, his wife of 30 years, was when they took Ken and me to Jackpot, Nevada to see the comedy show performed by "Larry, the Cable Guy." I laughed and snorted for two hours.  I recommend that to anyone.
My father's health deteriorated when George was in his mid-twenties, and George took over most of the daily duties of the trucking company and the farms. After my dad died in 1989, George became the owner of Montana Express. For relaxation, he loved to fly his small plane, and continued flying until he could no longer pass the physical test. On the day he died, a friend took George and Marti flying one last time. The altitude change was bad for his health, but he went anyway. Then he drove to Twin to meet us at the restaurant.
I had no idea that was the last time I would see him. We talked about arranging a family get-together at a restaurant in Hagerman. He nodded. But, there was something in his eyes. I couldn't stop staring at them. There was a glow that saw something beyond me that I couldn't see. Now I believe he was making the transition to another realm, and to be included in that moment, I am honored and humbled. (Ha! He would love that!) At his request, there won't be a funeral.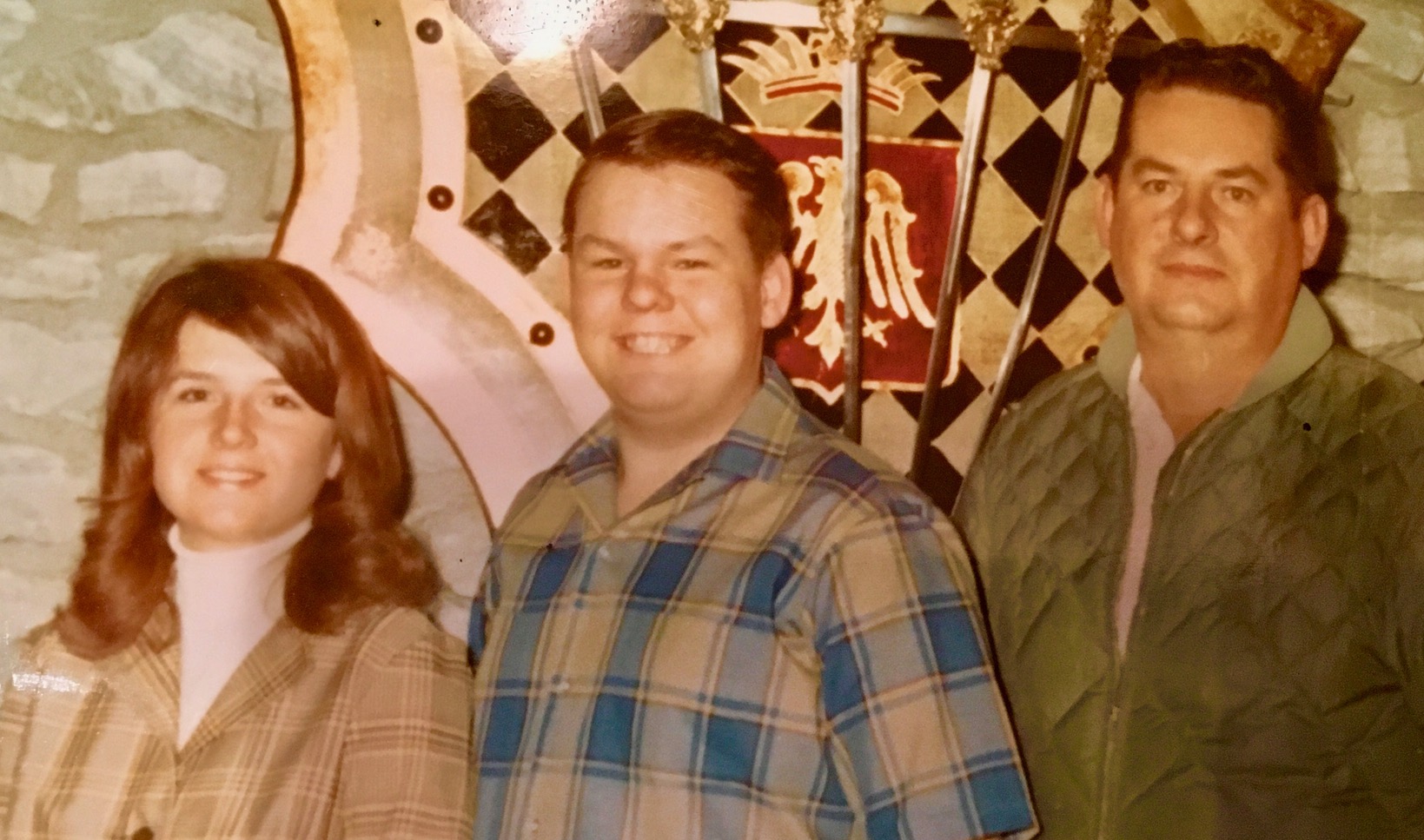 My father died at age 60. George was 61. I've outlived both and am getting nervous. I'm motivated to enjoy every day and will try to avoid crabby people, create some laughter, and hug my family. I treasure the memories of George, and I promise to live better. I probably won't become as humble as he was, but I'll try. God speed, Little Brother. Follow the light.