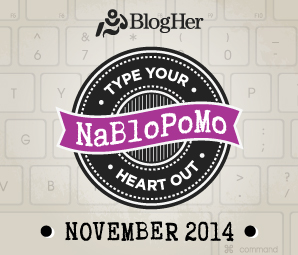 I can creatively transform the truth when necessary, and I suspect many of us are guilty of telling little white lies:
"Oh, yes, you have the most beautiful baby in the world!"
"Thank you for the gift of porcelain, laughing frogs. I'll treasure them forever."
"Leaving so soon? We must visit again sometime."
I've told door-to-door missionaries that I suddenly have a bout of explosive diarrhea. That really works, and they skedaddle quickly. And, I've never changed my weight on my driver's license, so I haven't gained a pound in more than 40 years. Score!
I'm participating in NaBloPoMo, a writing exercise that involves writing a blog every day for the month of November. I'm joining a group of midlife women who are blogging today about their lives, only they are including six comments and one is a lie. I'm not comfortable telling a lie to friends, but in the spirit of the game, this is my contribution.
Here are six comments about me. Five are true and one is not. Which one is the lie?
I rode on a bull elephant in a jungle in Nepal and witnessed a tiger kill a water buffalo.
I floated down the Nile to visit the ancient Temple of Luxor.
I love beer and 'brats after a day of fishing.
I sang in the American Cathedral in Paris.
I rode my horse in the barrel race at the Gooding County Fair and Rodeo.
I can write forward and backwards using two hands while singing in Latin.
I was going to write that I won a graceful, debutante competition at a fancy cotillion and I wore six-inch heels and waltzed the night away, but that would be too easy to spot as an outrageous fabrication with no resemblance to truth. The consequence of that statement would be that no one could keep a straight face when contemplating such an outrageous scenario. The real lie will be exposed in tomorrow's blog.