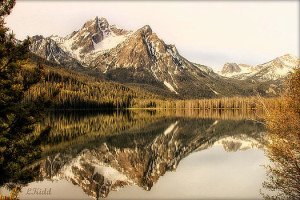 This week a few disgruntled people mentioned on social media that they were ashamed to be Idahoans. I'd like to remind them that Idaho is bordered by six states and one other country, all within a day's drive. Do they need gas money?
I'm a third-generation Idahoan, and some of my distant relatives walked here on the Oregon Trail. They never whined and moaned that they were ashamed to be pioneers. They kept walking, settled in the territory, planted crops, raised livestock, taught their children how to work, and built strong communities. They were proud to be self-sufficient, and celebrated when Idaho became a state.
Many residents now complain about politics, education, religion, women's rights, and any new "It's not fair!" grievance that offends them. I'd like to share a hearty meal of Idaho beef, mashed potatoes, fresh vegetables, huckleberry pie, local wine, and some words of wisdom with them.
Politics. People move to Idaho from more liberal states to take advantage of the low cost of living, the family-friendly communities, the low crime rate, and the exquisite natural beauty of the state. Then they complain about the politics.
To them, I say don't blame the politicians; blame the voters. If you want more progressive candidates, run for office or aggressively support other candidates. I'm irritated when perpetually-offended people in search of relevancy block the streets and yell in my face. I'm impressed when someone intelligently promotes a candidate or an important issue that earns my respect and my vote.
Education. I grew up in the farming village of Wendell with no opportunity for pre-school or kindergarten. I finished in 12 years and graduated from the same high school my parents graduated from 24 years earlier. I received a scholarship to the University of Idaho, graduated in four years, and began a successful career. Working during summer and spring breaks helped pay for college, and I finished debt-free. My children attended schools in Ada County and now are productive taxpayers, and my grandchildren, 5th generation Idahoans, attend local schools.
I willingly pay annual property taxes and thousands of dollars of my tax money are designated for education. So far, I'd like a better return on my investment. Throwing more money at education is not the answer. I advocate intensive training for parents to help them better prepare their young children for school and life. It's not the responsibility of the schools or the teachers to raise children. Their purpose is to educate students to become well-rounded, self-sufficient adults.
Religion. I grew up as a Presbyterian in southern Idaho, and the predominant religion was Mormon. They were my friends, and we co-existed without anyone getting beheaded. I've visited Muslim countries, and I appreciate their culture but I wish more local Muslims would condemn the horrendous atrocities committed by evil people who distort the Islamic religion.
Idaho suppresses women. I support education and opportunity for women, and I've been the victim of discrimination. But instead of hollering about the system, I worked and was rewarded. I was Idaho's first full-time television news reporter and talk show hostess, an officer at Idaho Bank & Trust, and a manager at Boise Cascade Corporation. By being productive and professional, women in my generation helped break the glass ceiling for younger women.
It's not fair! Get a grip, Buttercup. There always will be those who are richer and poorer, those who succeed with little effort, and those who work hard and fail. It's not fair that my friend, an avid health advocate, died of breast cancer at 40. It's not fair that my father received a transplanted liver that had cancer and killed him at age 60. It's not fair that I'm older, and my knee hurts, and my hair is falling out, and younger women seem to have it easier than I did. What's fair is that we all woke up this morning and have another day to choose to be productive and happy.
Get to know Idaho. I've lived in Wendell, Moscow, Twin Falls, Boise, McCall, Eagle, and Garden Valley. Each place has wonderful citizens and a few assorted jerks. I'm convinced that if we avoid the trap of organized outrage and get to know each other, the state and the world would be better places.
This week I drove through the Sawtooth National Forest from Ketchum to Garden Valley. The magnificent vistas included rugged mountain peaks, lush meadows bordered with rustic log fences, and eagles soaring over tumbling rivers full of melted snow. This breathtaking reality proved why I am proud to be an Idahoan. Here are some photographs of our glorious state taken and copyrighted by my friend and former Wendell resident Lisa Kidd. (View her work at http://fineartamerica.com/profiles/lisa-kidd.html.)  If these reminders don't convince some people to love Idaho, my gas money offer is still available.