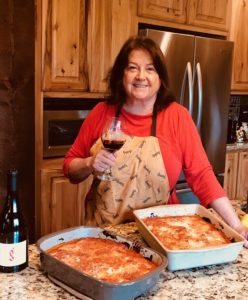 What to do on a rainy spring day? Make chicken Parmesan, of course. Several years ago, I attended a cooking school for a week in Tuscany, Italy with A Cook's Tour. We learned from local chefs and consumed a year's worth of delicious Italian food and wine in a few days. It was glorious.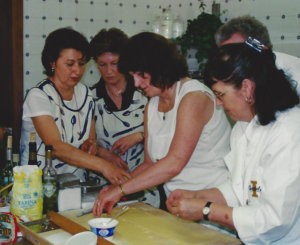 As a successful bribe to have my adult children visit me, I just make the chicken Parmesan recipe I learned in Italy. Here is the recipe, with a few original adaptations.
Start with a good red sauce. You can use canned marinara sauce but buy an Italian brand such as Bertolli. If you want to make your own, take a day and enjoy this process.
Roast and dice two green and red peppers. Dice two onions. Sauté peppers and onions with some Italian apices in olive oil in a large pot. You can add diced mushrooms and minced garlic, but watch the garlic so it doesn't burn.
Open red wine and taste to enhance your cooking experience.
Add several large cans of Italian tomatoes to the pot and simmer for at least an hour. You can use a food processor to obtain the best consistency before adding the tomatoes to the pot.
While the tomatoes are simmering, cut up a few pounds of boneless, skinless chicken breasts. Flatter with a pounder and cut into pieces. Dip pieces in beaten eggs and then dip in a mixture of Panko bread crumbs and grated Parmesan cheese. Fry in olive oil until brown but not fully cooked. Drain on paper towels.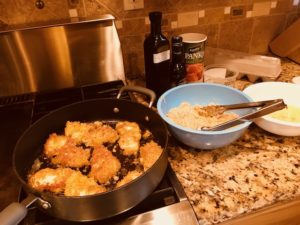 Sip the wine to make sure it's still good.
In large casserole dish, spread some red sauce. Add browned chicken, more red sauce, cover with sliced mozzarella cheese, top with more red sauce, and add more freshly grated Parmesan cheese. Bake at 350 degrees for about an hour. Sip wine and sing Italian songs while the food is cooking. This dish can be better the next day, reheated. It also freezes well.
Serve with crusty bread, cooked pasta and more red sauce, a green salad, and buttered, steamed asparagus. Add red wine, of course. You may need to open another bottle. Delizioso!